Adam Randall was enjoying his cushy chef job at the Granite City restaurant chain when he decided to make a bold move. "I came because Clayton made the phone call," he said, referring to his brother-in-law Clayton Gardner.  "I've known Clayton since he was about 12," and Randall has been married to Gardner's sister, Barbara, for 30 years. 
"It was truly an opportunity to finally open my own restaurant," he said about Caribbean Smokehouse in Stillwater. "People ask why I didn't do it 10 years ago. I wasn't ready."
When he toured the place, the former home of the pirate-themed Smalley's that had abruptly closed, "it was filthy. The floor was black and your feet stuck to it,"  he recalls. But Barbara liked the feel and immediately started thinking of interior design ideas. "There was a charm, like this was where we were supposed to be. The other thing is it's all family," Randall said.
Gardner and Randall met when they were teenagers and Randall was DJ-ing at the Roller Gardens skating rink in St. Louis Park. Clayton and Barbara were two of 12 siblings raised in St. Paul, and the family thought it was odd when they'd ask Adam to come out and play but he would rather hang with their mother in the kitchen.
"My mother-in-law was by far the best chef I've ever seen," Randall says, although she wasn't professionally trained but rather: "She was a mom who raised 12 kids. She was an encyclopedia of food knowledge."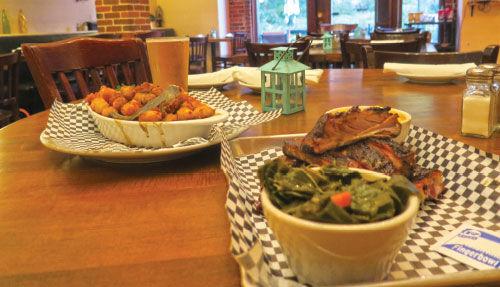 Randall grew up in the foster care system, and one of his main foster moms was from Virginia and taught him how to make soul food, a style he says forms the roots of Caribbean Smokehouse. Everyone hears Caribbean and thinks jerk chicken, he says, but the cuisine has so much more to offer. "There are 29 countries that make up the Caribbean," he points out, each with its own influences. "My goal is to travel more, learn more, bring more of the Caribbean to this place." The dish he made for this feature, however, is Minnesota through and through: Shortrib Hotdish with tater tots on top. 
His introduction to cooking was harrowing, "One of the first things I cooked was out of necessity. My sister and I were left alone when I was six," for as long as eight to 10 days before they were found, and he figured out how to cook some noodles in butter. 
Interviewed in October, he had just been contacted by his mother, who found him on Facebook and is living in Texas. He and his sister were due to visit for the first time since she left them behind as children. 
Of the trauma, he says simply, "It helped make me who I am. I wouldn't change one thing." Why? "Because I'm sitting here in my restaurant," he said.
Randall's biggest influence in the kitchen was Austrian-born Chef Ernst Conrad at the plummy Windows on Minnesota, which used to reign on the top floor of the IDS Center in downtown Minneapolis. Conrad was "my first real chef," Randall recalls. "I watched him on the sauté line, working seven to eight pans at a time and never missing a beat, and creating the most amazing food."
Randall was going to culinary school at the time, but Conrad admonished him. "Adam, Adam," he said, as Randall recalls, imitating his heavy Austrian accent. "I can teach you everything you're learning in school. You're wasting your money"—and he did. 
 "The thing that was the most fun is, we'd get Gourmet magazine, Food & Wine, and we'd page through and say, 'Hey! We can make that,'" and cost was no object.
Randall said today he's most proud of two things: finally getting his culinary degree, at age 50, and "being in recovery for 22 years," after entering rehab for the sake of his young sons at the time. 
Owning his own restaurant, he says, is "nerve-racking. It can be overwhelming. It ramps up," he said. Are we going to make it? is a question he often asks, and he believes the answer is yes.
When he interviews staff, he asks one question: "Tell me the difference between service and hospitality. Service is getting the guest what they ask for. Hospitality is a feeling the restaurant evokes," making people feel comfortable in their home away from home. "I learned that on the 50th floor," at Windows, he said, and relates a tale.
On afternoon, a gentleman came in and asked to sit in a certain section, but the server said the section was closed. He'd been on a plane for 17 hours, he said, and asked for a cup of coffee, bacon, eggs and toast, but he was informed that the restaurant only had sandwich service at that time.
The next day, there was the GM, the manager, the server and "the gentleman," in a meeting together. "The gentleman is the senior vice president of Hilton International," Randall recalled. The server didn't lose his job, but the senior VP said: "Do you have bacon? And do you have eggs? The difference between service and hospitality is right there."
Now if someone comes into Caribbean Smokehouse and asks for bacon and eggs, he expects his staff to have only one response: How do you like your eggs? 
---
Short Rib Hot Dish
Yield: 10 pounds
Portion: 6 ounces
Number of portions: 26.67
Prep: 30 minutes 
Cook: 3-4 hours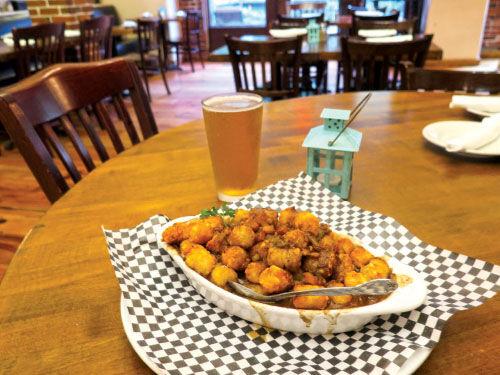 Ingredients
10 lbs. Chuck Flap Boneless Beef
2 lbs. medium diced carrot
2 lbs. medium diced celery
4 lbs. medium diced yellow onion
10 each sprigs fresh thyme
1 bunch Italian parsley
5 each sprigs fresh rosemary
2 cups tomato paste
10 each toes garlic bulb
1 gal. beef base
2 cups all purpose flour
3 T kosher salt
3 T ground black pepper
16 fl oz. canola oil
Season beef with salt and pepper, dust with flour
Brown beef in rondo with vegetable oil, set aside
Add mirepoix to pan and brown until onions start to caramelize; add garlic
Add tomato paste
Deglaze with red wine
Add beef stock
Return beef to pan and add herbs
Cover pan with plastic and then with aluminum oil
Bake at 235 degrees for 2-3 hours or until fork tender
Remove from heat; remove cover and place in cooler
Cool to 70 degrees in 2 hours then to 40 degrees in 4 hours
Once cooled remove beef from pan and strain the liquid through a china cap. Reserve the liquid and discard the vegetables
Bring the liquid to a boil and thicken with a cornstarch slurry. Cool sauce to below 70 degrees in 2 hours and to below 40 in 4 hours
Label, date, initial and rotate
To serve:
Top with Ore-Ida tater tots