Standing off to the side while Café and Bar Lurcat Executive Chef Jordan Swiler prepares to plate the Braised Lamb is a quick finale since the magic of braising the meat has already been done. He moves the bubbling saucepan to the left as he turns his attention to the masa gnocchi that defines this dish. Subbing in corn flour, his gnocchi is darker and denser than the pillowy, more traditional Italian-style dumplings. As the fall leaves fell on Loring Park outside the windows, this entrées bright flavors and savory tastes bridge the gap between the warm and cold seasons.
Swiler swirls the pan as the masa crackles in oil, just a light browning before adding the crunchy topping of thin jalapeño, cilantro and onion slices that add color and contrast. This staple of Lurcat's new, untethered menu is a hybrid between a Midwestern stew and a Latin barbacoa.
It's not just the texture of the gnocchi that's novel. The lamb was braised with guajillo paste that's potent and sweet with strong hints of barbecue. The gnocchi masa is sourced from the La Poblanita market and restaurant on Lake Street, where a conveyor churns out scores of tortillas every day. Once Swiler and his crew learned they could have this masa delivered to Lurcat's kitchen, it was game on to develop a dish that throws off savory taqueria smells throughout the restaurant.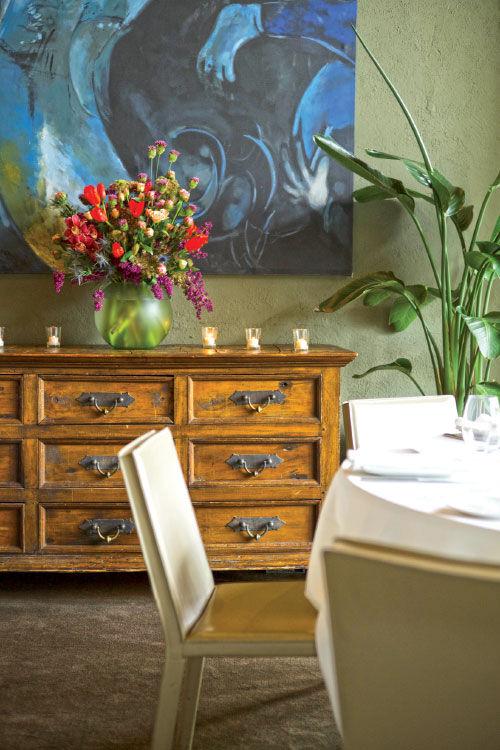 After shooting some beauty pics in the afternoon light, Swiler and I sat down to eat and discuss his new menu that's no longer confined to the Traditions, Market and Voyage categories. Picking up flavors from his and his team's travels, the Voyage category was a particularly good idea while it lasted, but now Lurcat's chefs are focused on consistency, complimentary flavors and exploring their random curiosities.
Freshly home from an investigatory D'Amico trip to New York City, including a meal at Jean-Georges, Swiler has worked for the company since he was 18. He's been Lurcat's head chef since late 2016 when he returned to Minnesota after helping launch the brand's Continental steakhouse in Naples, Florida.
"I figured out the flavor profile before I figured out the logistics, sometimes it works and sometimes it doesn't," Swiler said of his sudden inspiration that often includes detailed plans for presentation. "It's a strange process when it comes to writing recipes, some will come real fast and sometimes it's just trial and error." With a laugh, he adds that he doesn't want to jinx his tendency for creative sparks by talking about it too much.
The Foie Gras Panna Cotta is another gorgeous example of Swiler's creative process. It's a surprising dish that straddles the line between savory and sweet. "It eats like a dessert already, so it has a bunch of really cool textural elements," he said. Those include macerated strawberries, the ancient and fruity Saba, pine nut granola and a crunchy sponge sugar topping. It's a delicate look for a dish intended to be a more approachable entry to the potent taste and texture of the liver.
After bringing Lurcat's clientele on virtual trips to Tokyo, India and the South Carolina Low Country in recent years, Swiler and his long-standing kitchen team have crafted a new menu that's better for guests who like to share dishes. He also pointed to the smoked oyster beurre blanc that tops the new hanger steak as another example of new thinking for an ingredient that can be a turnoff to some.
"It'll be one of those dishes that'll be less invasive for somebody that maybe doesn't want to eat raw oysters," Swiler said, noting his enthusiasm for the regular list of what's fresh from Massachusetts-based Island Creek Oysters.
On the note of giving thanks, Swiler said he's incredibly fortunate to work with his current team, many of whom have worked every station in the restaurant just like he has done. Over the years, he's learned to be somewhat cautious of candidates with copious experience, instead looking for people who put him at ease.
"I really try to keep the wolf from the door," he said of new employees. "I'm looking for people who could stay at my house … I really look into the personality of the people I'm hiring and their drive to learn more."
Those softer traits come to the fore during the countless shifts where Lurcat is serving a wedding or other private event with a full menu out of the bar kitchen, while the rest of the team is simultaneously serving a packed dining room on the other side of the restaurant. Keeping an even keel on a daily basis also means ensuring his staff has a life outside of work.
"I have this beautiful thing going on," Swiler said. "I don't think I've ever said no to a request for vacation, and that's the thing. I can take mine because we all scratch each other's back where somebody else has to pick up the workload—we just do that."
Swiler and close friend Ben D'Amico occasionally kick around the idea of doing temporary pop-ups during the winter months, but he's not especially focused on some big next step as he relishes the bond he's formed with his team and D'Amico leadership.
"If anything ever happened to my parents when I was younger, Larry D'Amico (Ben's father and the chain's co-founder) probably would have been the guy, I absolutely love him so much," Swiler said. "He's one of the most incredible humans, and I've known him my whole life." 
---
Lamb Barbacoa Masa Gnocchi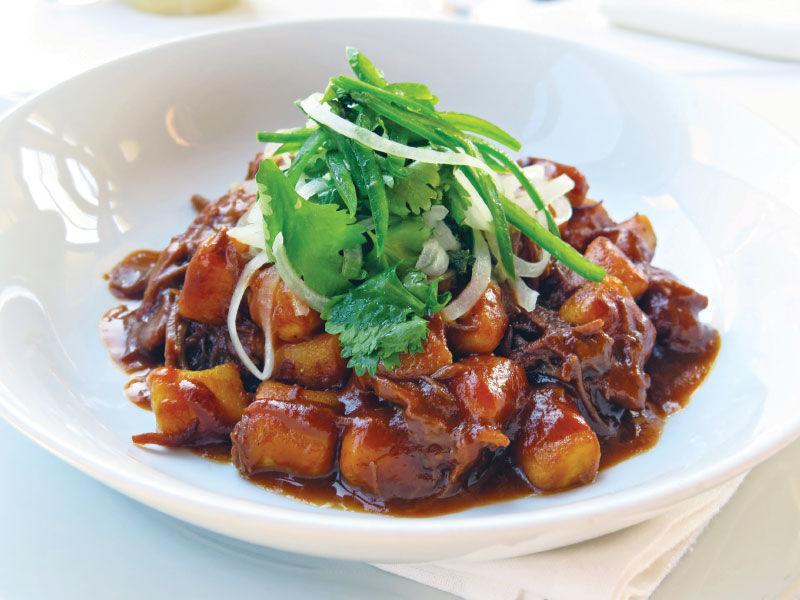 6 oz masa gnocchi
6 oz lamb barbacoa
4 oz braising liquid
1 t guajillo paste
Butter
Salad of Onion, Jalapeno, Cilantro, Lime
Masa Gnocchi
6 # Tortilla masa
2 # Milled Potato
2 ea Eggs, beaten
200 grams Lard
2 T Salt
Braise
2 ea Lamb Shoulder, cubed
Cumin/coriander blend to season
Guajillo Paste to cover and marinade overnight
2 ea onion, caramelized
6 ea Tomato quartered
12 cloves  garlic
Salad
Julienned Onion
Julienned Jalapeno
Cilantro, rough chopped
Lime Juice, Olive Oil
Preparation Methodology:  
Braise:  Cube the Lamb. Season with cumin coriander blend and salt.  Marinade with Guajillo paste, set in cooler overnight.  When ready to braise, put the meat directly into the broiler to crust the paste to the meat. Meanwhile, caramelize onion. Add garlic, then tomato and then the meat. Cover with chicken stock and braise in the oven at 400 degrees until tender (about 3 hours.)
Gnocchi:  Combine all ingredients in a kitchen aid with paddle attachment. Mix until completely combined. Roll out to desired thickness. Bring a pot of salted boiling water to a boil.  Add the dumplings and cook until tender inside.  
Service:  In a smoking hot pan, add your gnocchi portion and crisp them up.  Meanwhile add your braising liquid and meat portion and reduce.  Once ¾ reduced add gnocchi, a squirt of lime juice and a bit of butter and emulsify.  Season with salt and lime juice. Plate in a pasta bowl. Garnish with julienned jalapeno, onion, minced cilantro and a squirt of lime.