As pastry chef for The American Swedish Institute's restaurant FIKA, Brenna Morrison employs a bevy of sleight of hand maneuvers. Take, for instance, her directions for the popular-must-have-in-the-bakery-case Cardamom Buns: "Hold strips of dough with both hands using pincer fingers, twist toward you with your right hand, two to three times. Using your right hand, twist the strip around your left thumb and push the open end into where the left thumb is to close the roll or 'knot.'"
Easy for her, maybe. But remember she's not just making one batch, nor is it the only item proofing in her upstairs kitchen. Pastries are big in Sweden—and in Swedish transplants like Morrison.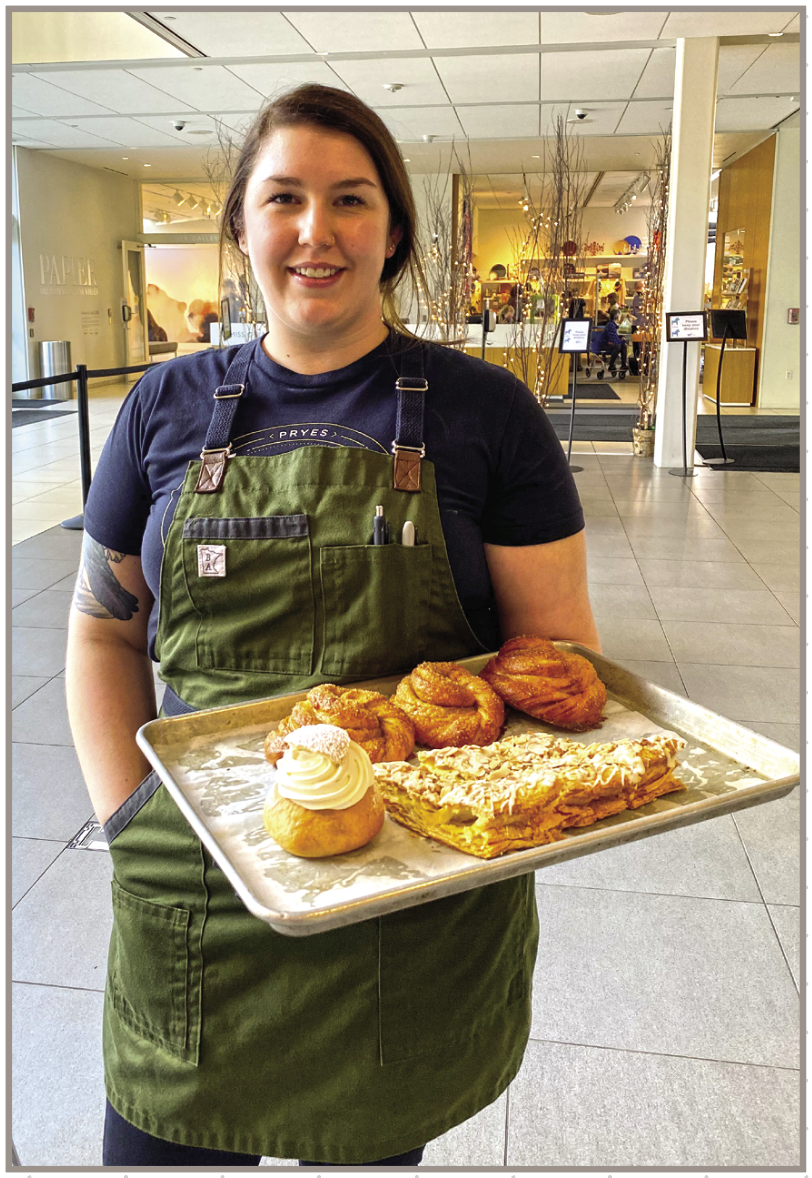 "We change the scones every couple of weeks, and maybe the shortbread, but the cardamon buns can't be taken off the menu," Morrison said. They are a staple sweet for Swedes and not many bakeries in the Twin Cities are making them, she added.
While the food at the small café is amazing (we featured chef Blake Meier earlier this year in our April issue), the pastries, which include cookies and the equally mandatory rye bread, are a standout. While Morrison is charged with making authentic Swedish pastries, she's given creative license to add her own twists. "Before, when we were doing more plated desserts, I'd do my own spin on it, but for the pastry case I try to keep it traditional," she said.
Prior to joining the staff at the institute, Morrison was the opening pastry chef at Eastside Eat + Drink (now EaTo) in Minneapolis and The Lynhall on Lyndale Avenue.
And before the pandemic caused all kitchens to cut back staff, Morrison had the luxury of having a part-time assistant to help her with the laborious shaping and baking. "She'd help with a 'bakeoff' in the morning—two-and-a-half hours of proofing bread," Morrison said, adding, "When someone's focused on that I could do other things," such as experimenting with new flavors and recipes. "I hope I can bring her back—or someone," Morrison said. She's been using the upstairs catering kitchen during most of the past year or so when events were nonexistent and said it can get lonely. But fortunately, she can pop into the downstairs kitchen "and actually speak to someone."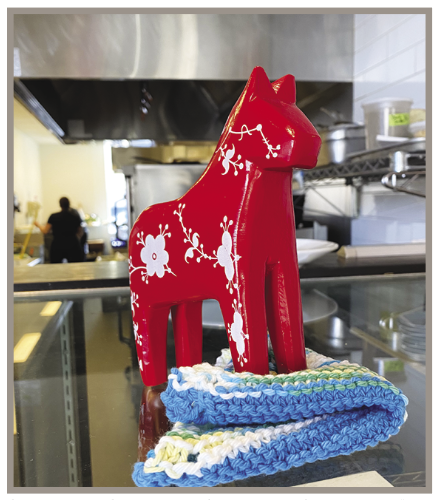 While FIKA's pastries were always in demand, they became even more so once people were home alone and started ordering big boxes of treats. Balancing retail sales with having enough product to also fill a pastry case in the restaurant is a bit of a challenge.
Swedes love culinary holidays and days such as National Pancake Day back in February, where the popular Swedish pancakes had to be relegated to takeout only so that the dining room didn't become overcrowded. For Easter, the complicated semla buns (filled with almond paste and topped with whipped cream) were being preordered at the rate of 200 a weekend, plus she said "I wanted them in the case as well."
When things aren't being socially distanced, there's a lot of demand to use the ASI facilities for weddings and corporate events. She does wedding cakes on request—simple cakes, like vanilla cakes with chocolate frosting between the layers—because "I don't do extravagant decorating. Decorating cakes stresses me out," Morrison said.
She grew up in Grand Forks, where she spent time in the kitchen with her grandmother, making traditional fare like pancakes and egg salad. There was more canned and frozen food than fresh, and "a lot of chain restaurants" in her upbringing—a notion that goes against the grain now.
She tried college, but after two years knew it wasn't for her. "I decided I didn't want to stay here for my whole life," she said about Grand Forks.
Baking cookies for her friends had become her signature in high school, and when she made an inventory of her skills, cooking was at the top. She signed up for Le Cordon Bleu in Minneapolis, and when it came time to specialize, she chose baking. It's the creativity but it's also the science behind it.
Someday she might want to open her own bakery, but that's not something she's dreaming about currently. Maybe when she can manage the challenge of working even more hours than she does now, she'll return home and open a bakery, she says in answer to our question. And note that the location she was considering is a return to Grand Rapids.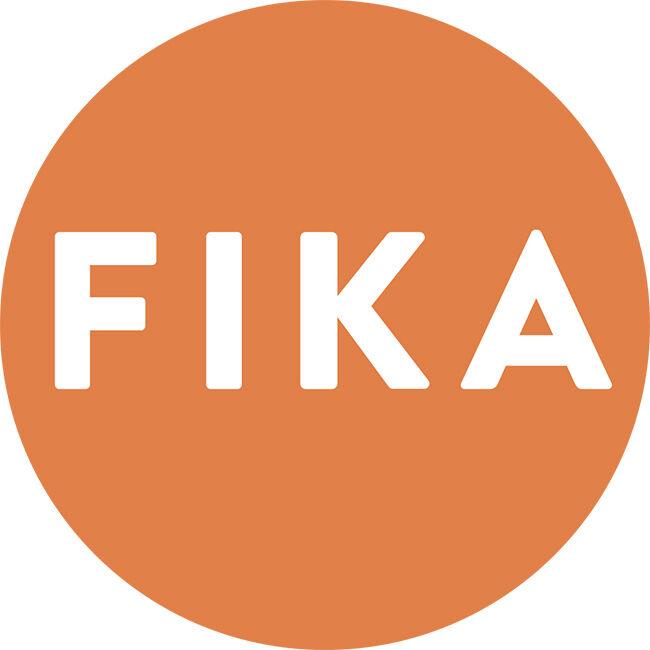 But for right now, she's content to bake where she's landed.
Which is fitting because her name means "raven"—an image that shows up as a tattoo on her arm. And as her name implies "ravens travel in small packs and trust their people," she pointed out. Just the kind of person you want in a kitchen when there's a wedding or a holiday to bake for.
Cardamom Buns
(Yield around 15 buns)
Ingredients
1320 grams bread flour
200 grams brown sugar
1T salt
1T cardamom
710 grams whole milk
225 grams butter
22 grams active dry yeast
Instructions
Combine flour, brown sugar, salt and cardamom in a mixing bowl with a dough hook attachment.
In a pot on the stove, bring butter and milk to about 110-degrees F.
Add yeast. Whisk well and let sit for three to five minutes
Add wet mixture to the dry mixture in the mixer and mix on low speed for 7-10 minutes, or until dough passes the window pane test.
Place dough in a clean, sprayed bowl. Cover. Let dough sit for about an hour or until the dough doubles in size.
Turn out dough on a lightly floured surface and gently work it into a long side parallel to the edge of the counter or workspace
Lightly flour surface of the dough, then using a rolling pin, roll dough out to about 24"x 13" and about ½ " thickness.
Melt ¾ cup of butter and spread it evenly on dough, then sprinkle an even amount of brown sugar, soaking the butter layer and covering the rolled out dough.
Fold the dough into thirds, the long way (parallel to the edge of the counter)
Using a pizza wheel, cut strips about 1 1/2 inches thick vertically until you've cut all the dough.
Hold strips of dough with both hands using pincer fingers, twist toward you with your right hand, 2 to 3 times. Using your right hand, twist the strip around your left thumb and push the open end into where the left thumb is to close the roll or "knot"
After all the buns are rolled or knotted, cover and proof until doubled in size.
Egg wash and sprinkle demarara or sugar in the row on top of buns.
Bake at 350-degrees F for about 15 to 20 minutes.
If you don't want to bake on the day of, they will hold in the fridge for 2 to 3 days. Proof and bake the same.