On a Wednesday in September just after the lunch rush, Spoonriver's head chef Liz Benser was describing the vegetarian special she was creating that day—an enchilada dish loaded with colorful vegetables and spiked with heat—and then flashed back. 
"My very first day in 1986 in Café Brenda, enchiladas was the special," says Benser, sitting for an interview along with Brenda Langton, who owns Spoonriver in Minneapolis and who hired Benser at her former restaurant, Café Brenda, 30 years ago.
That's right, Benser has worked for Langton for more than three decades, a long run in any business but an eternity in the restaurant world. But first she had to convince Langton to give her a job at the vegetarian Café Brenda even though she had worked mostly at hotel restaurants where meat dominated the plate. 
"Brenda interviewed me three times before she hired me," Benser says. 
Today, Langton says, "Liz and I can probably finish each other's sentences."
In Langton's kitchens, Benser says she enjoys working with more women than is typical. 
"A lot of kitchens in general are male-focused. I was a young woman in my 20s, and there was some harassment and teasing and belittlement" at other restaurants, she recalls. "When I came to work with Brenda there were a significant number of women in the kitchen," and that was nice because Benser was raising kids and so were they and they could talk about the struggle.
"Women have always been drawn to my kitchen because I'm a woman," Langton says. "My goal is to keep a happy kitchen." 
Benser chimes in: "Brenda's not a screamer."
Langton shoots back. "Liz and I have never had a cross word. We might get stressed out," but it's never personal, both women agree.
Benser has two main reasons for staying so long in one place. "I love the food, first and foremost," she says, referring to Langton's career-long focus on organic vegetables and grains and healthy, high-quality fare. Langton has been vegetarian-focused, gluten-free-friendly and locally sourced long before it was cool. "You can't find that in a lot of kitchens," she said.
The second reason: "The creativity I have in the kitchen. I create a vegetarian special and a seafood special every day," she says.
Her job has gotten trickier since moving to Spoonriver 10 years ago, when Langton and her husband and business partner, Timothy Kane, opened up shop across from the Guthrie Theatre on the banks of the Mississippi River. Suddenly, they became a theater restaurant, moving the masses out the door so no one misses a show. 
Some of the most popular fare at Café Brenda, a draw for celebrities and foodies who sought out one of the only vegetarian restaurants in the Twin Cities at the time, fell flat with Guthrie patrons—like a vegetarian plate of the day based on a macrobiotic philosophy.
Now, Spoonriver will serve steaks, but always raised the way the chefs believe is right. 
"We were never against meat," Langton says, but their goal today is "serving the right meat that's pasture-fed" and raised by local farmers. (One of their farmer-suppliers is featured on a Spoonriver video, saying, "Our cows are vegetarians, so you don't have to be."
"It's been a learning experience—the last 10 years here we've come into our routine," Benser says. "After 30 years I have a bag of tricks. I know what will go over well with our customers."
Langton appreciates the approach. 
"This has been a problem. We've been ahead of the curve," she says. "We have a repertoire that can be very fringe food, and we have to pull ourselves in and do more conventional food," especially at Spoonriver. 
At Café Brenda, "we were nicknamed Café Trenda when it opened," Langton recalls. "I said baloney. It wasn't a trend to me and it was never going to be, and 30 years later, the trend goes on in a positive way." 
In the beginning, Benser says the biggest thing she learned from Langton was the style of cooking, "meaning focusing more on the vegetables and the grains." Fast forward 30 years, and "I think we're learning together at this point," she adds. 
Langton praises Benser's plates, describing loads of gorgeous vegetables, flavorful sauces and wonderful aromas. "They sing," Langton declares. 
What Langton learned from Benser is a cool style. "A steady, calm force she instills in the kitchen," is how she describes her head chef.
"I'm the rock," agrees Benser. "The more crazy it gets, I get grounded."
That cool demeanor runs counter to the celebrity chefs' tantrums and antics made popular by the Food Network, and Benser points to such shows as a problem in the restaurant business, especially when it comes to finding people to staff the back of the house. 
"I feel like when the whole Food Network exploded on cable it gave people the wrong idea of what the business is," and then for-profit culinary schools came along with "their high price tags and debt," says Benser, who paid $1,100 total for her culinary certificate from Hennepin Tech, one of the only cooking school in the Twin Cities back in the day. "I think it was an illusion." The message is, "You, too can be a chef, and it doesn't work that way. You have to start at the bottom."
Langton recommends people go to the public tech college in St. Paul if they want to be a chef, and then seek out what she calls friendly kitchens. 
"It is a great job for certain people," she says. "There are good kitchens that have a good, healthy environment, that care about their staff. You're very active. You're dealing with healthy food. The aromas…"
Adds Liz: "The teamwork."
Asked to name her worst day ever at the restaurant, Benser thought a long time, then recalls the horrible day of the I-35W bridge collapse, on August 1, 2007. "I was right in the middle of the first shift on the patio, and all these emergency vehicles come rushing by."
But recalling the best day was easy. "When I fed Aerosmith twice in one week," back in the mid-90s. "Steve Tyler would come into the kitchen and say hi."
Adds Langton: "Prince would come in all the time," to Café Brenda. "We have a list this long. It's full of celebrities and musicians; k.d. Lang came in."
Benser says: "Captain Stubing sang us the 'Love Boat' theme." 
"We were dancing in the kitchen," recalls Langton, finishing one of those sentences, just like she said.
Toward the end of the interview, Benser asks for an extra copy or two of the Top Chefs book when it is published, to send to her 92-year-old father in Ohio. He was her inspiration to become a chef. Was he a professional chef, too, she is asked? No, he was just her dad, father of 10 kids and she was the baby, and he would take turns with her mother providing the grub.
Wait—Benser is the youngest of 10 kids? That may explain her calm demeanor, because compared to her growing up, working the line at Spoonriver probably seems like a piece of (gluten-free) cake. 
---
Spoonriver 
Okisuki
(Black cod or salmon in Asian broth)
This is our favorite comfort food in the cold months. Salmon and rich white fish work well, or make this dish with tofu for a delicious vegetarian option. You can make the stock in advance; it keeps up to a week in the refrigerator. Serves 4 generously.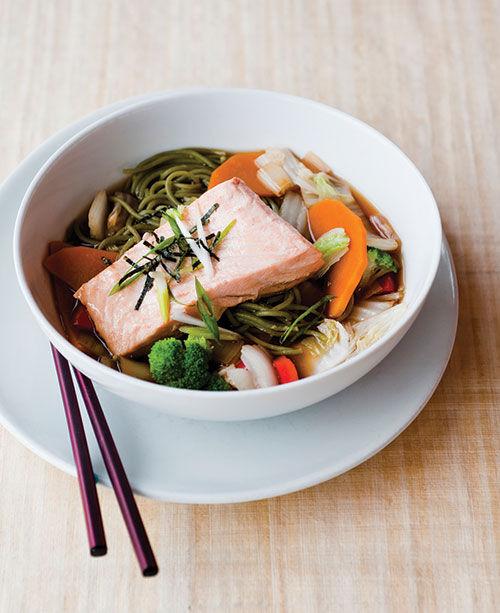 Stock:
1 medium onion, quartered
2 carrots, unpeeled, washed and cut into 1-inch pieces
1 stalk celery, sliced
1/4 cup sliced fresh ginger
4 cloves garlic, smashed
1 tsp salt
6 whole peppercorns
2 whole star anise
1 bay leaf
1/4 tsp red pepper flakes
1 (2-inch) square kombu (optional)
9 cups water
1/2 cup soy sauce
2 Tbsp mirin
2 tsp rice vinegar
2 Tbsp maple syrup or honey
1/4 to 1/2 tsp chili paste
Fish:
1 small onion, sliced
1 carrot, sliced, or 1 cup thinly sliced winter squash
1 red bell pepper, cut into large squares
1 cup napa cabbage or bok choy
1 cup peapods
16 to 20 ounces black cod or salmon, skinned and cut into 4 portions, or tofu, cut into 1-inch cubes
Rice, Chinese or wheat noodles
To make the stock, combine the onion, carrots, celery, ginger, garlic, salt, peppercorns, star anise, bay leaf, red pepper flakes, kombu (if using), and water in a pot. Bring the water to a boil, reduce it to a simmer, and simmer, covered, for 30 to 40 minutes. Strain the stock, pressing the liquid from the vegetables. Discard the vegetables. Add the soy sauce, mirin, rice vinegar, maple syrup, and chili paste.
To prepare the broth, place all of the stock and the onion, carrot, red bell pepper, and cabbage in a saucepan and cook for about 5 minutes. If you are preparing tofu rather than fish, add the tofu to the broth when you add the vegetables. Add the peapods and cook for 2 more minutes.
Meanwhile, broil the fish. The cooking time will depend on the thickness of the pieces and the type of fish. Although you could try poaching the fish in the broth, it works best to broil the fish separately and top each bowl of broth with a piece of fish.
Cook the noodles according to the package directions, timing them to be done at the same time as the fish and vegetables. Strain the noodles, but do not rinse them.
Serve this dish in low wide bowls. Place the rice or noodles in the bottom of the bowls, ladle the vegetables and broth over them, and top each with a piece of broiled fish.