Alex Roberts thought he wanted to be a doctor. But then he volunteered in an emergency room for six months and "that fixed me quick," he said. I think it's safe to say the Twin Cities restaurant community is glad Roberts opted against a career in medicine, choosing instead to wield a blade in the kitchen, not an operating room.
As Benjamin Rients greets Roberts inside Lyn 65, it's all handshakes, hugs and a hearty slap on the shoulder. It's been awhile since the two have seen each other, "probably since you took me to Paul McCartney earlier this year," says Rients. 
"He's a huge fan," Roberts explains to me as we sit down at a table inside the Richfield strip mall restaurant Rients opened in August 2014. The two trade a few friendly jabs before Rients takes a more serious tone as he shares the profound impact Roberts had—and continues to have—on his career and life.
After snagging a job as a line cook at Roberts' then-new concept, Brasa, in 2008, Rients impressed his boss with his humble attitude and willingness to learn. So much so that Roberts moved the young cook over to his acclaimed Restaurant Alma just a few months later.
"And that sort of changed my entire life," says Rients of working closely with the James Beard Award-winning chef who quickly became a friend and mentor.
The way Rients tells it, he started working in restaurants at age 16, washing dishes, busing tables and serving, but never thought of it as a career path. Then, at 24, "after it became very apparent I wasn't going to do well in college," Rients enrolled in the culinary program at Minneapolis Community and Technical College and landed the gig that would eventually give him the experience, skills and inspiration to open his own place. (He did later earn a degree in agricultural industries and marketing from the University of Minnesota.) 
"Every day you get up and go to work … it changed my life, where I was going in my life and it gave me purpose," says Rients of his five-plus years cooking at Alma, an intense environment but one with a chef and owner who "has a proven methodology—and that includes taking care of others."
"That's what it takes to build the culture. Culture isn't something you can bottle up and reproduce," Roberts interjects. "It doesn't happen on paper. You build something that people believe in and will work for. It's treating that dishwasher with the same level of respect and carrying that all the way through.
"This is the work—it has to inspire you and draw you in."
As Roberts jumps up to hug Jason Sawicki, another Alma vet and co-owner of Lyn 65 (along with Travis Serbus and Tye Sullivan), Rients, 33, points to them as an example of exactly the kind of environment he's working to cultivate at Lyn 65, one where everyone feels connected and involved in the process but one that also has clear leadership. Those leadership skills are what he's perhaps had to work on most while trying to balance his "grandiose" vision of building a cooperative of sorts that incorporates everyone's opinion.
"Everyone who comes to work here is in this place and they're keeping it open," Rients explains, but he quickly realized some structure was needed or nothing would get done. "I've learned to be a stronger leader," and also from Roberts, "the importance of having conversations that are direct but not aggressive." 
It's a style Roberts says he learned while working in New York for six years after he moved there—he was raised in Minnesota—to attend the French Culinary Institute in Manhattan. Cooking at restaurants such as Tom Colicchio's Gramercy Tavern, Roberts learned firsthand that to command a kitchen and get results, you have to set expectations and not falter—even if that means confrontation. 
"You're maybe really hammering people, but you're being respectful," says Roberts, who had rejoined our table. "That's something I try to pass on."
"If you come in timid, it takes so much longer to go back and gain that respect," adds Rients.
While Rients credits Roberts as a strong influence in his career, he didn't set out to create another Alma when he opened Lyn 65—though that may have been the expectation from the dining public.
"The goodwill that I got from working at Alma was insane," says Rients, "but people had this expectation that we were going to be as good as Alma, or like Alma … and we were not going to be that." 
And even the concept Rients and Co. set out to open is not necessarily what Lyn 65 has become.
"We had opened with aspirations to cook what we wanted to make and that's changed to making what our guests said very clearly they wanted us to make," Rients explains of quickly seeing that the burger and fried chicken were among the most-ordered items, not, say, the chilled carrot coconut soup with lobster, yogurt and mint.
Rients, though, had never cooked a burger or fried chicken in a restaurant before opening Lyn 65. But to change and adapt to what's going on around you is to survive in this business.
"We were pushing the idea of craft to an audience that wasn't necessarily ready for us," he continues, but they've slowly been incorporating more of the original vision, putting shared vegetable plates on the menu and all the while cooking from scratch and sourcing locally whenever possible. 
And though he still works the line five days a week, Rients already has his next project in motion, a restaurant he's developing with Lyn 65 chef Jose Alarcon that will highlight Alarcon's native foods from Morelos in Mexico. It's the beginning of what Rients hopes will eventually become a hospitality group that acts as the seed for his employees to launch new projects—and for Rients to hone his skills as a restaurateur. Plus, "it'd be foolhardy to not capitalize on the talent we have here," he says.
Keeping that talent and offering new opportunities has become more important than ever, notes Roberts, as an ever shrinking labor pool—exacerbated by the closing of culinary schools locally—can put restaurant owners in a tough spot when it comes to hiring. It's why Roberts sees value in an apprenticeship program at his restaurant, to "bring that skill and passion back to the people." It's also one reason for undertaking his own new project, the recently completed casual, all-day sister café adjacent to Alma and small boutique hotel above the restaurants.   
 "At Alma, we have people with some really deep talent" and the expansion is providing new challenges and new ways for them to develop their ideas, says Roberts.
In one of several "Alex says" moments, Rients puts in, "Alex says a lot, this is the trade of our generation."
Now it's up to them, both Rients and Roberts agree, to help support and nurture that trade. 
---
Lyn 65
Mustard-crusted Swordfish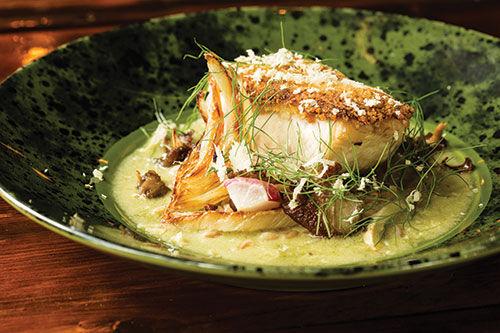 Red Pepper Mustard
1 roasted red pepper
1 cup Dijon
1 Tbsp whole grain mustard
In a blender, purée red pepper and Dijon. Once smooth, stop blender and add whole grain mustard. Pulse to combine. This can be stored in the fridge for up to a week.
Morel mushroom breadcrumb
1/2 cup morel mushrooms
2 cups Panko breadcrumbs
1 Tbsp minced garlic
1 Tbsp minced parsley
Finely chop morels and sauté in butter until fragrant. Add garlic and sauté for 1 minute on medium heat. Add parsley and breadcrumbs; stir until well combined. Sauté on low heat, stirring until breadcrumbs are toasted and have turned golden.
For Swordfish
4 six-ounce swordfish fillets
Red pepper mustard
Morel breadcrumbs
Salt and pepper
Season swordfish with salt and pepper. Smear red pepper mustard on one side, and dip in breadcrumbs to coat. Heat cast iron pan on medium heat and add olive oil. Place fish, bread crumb side down, in oil and roast until a crust has formed (about 2-3 minutes). Make sure to not overcook crust. Flip fish, and roast in oven until cooked through. Serve with your choice of accompaniment.