During a busy weekend, the cooks at Benedict's in Wayzata crack more than 2,000 eggs as they prepare various breakfast standards such as steak and eggs, omelets and one appropriately dubbed "The Standard": two eggs, meat, potatoes, toast.  
Then of course there are Chef Mike Rakun's eight iterations of eggs Benedict. "We've got the California with avocado and spinach; everybody orders it with hollandaise, even though it doesn't come with hollandaise," says Rakun as he proceeds to tick off several others on his fingers, including a Cubano version, another featuring cured salmon instead of ham and one with hot fried chicken. "There's also a lobster Benedict, we call it The Nordeaster. It's like a nice, warm hug."
Rakun, however, sticks to the basics when he orders the namesake dish of his restaurant. "The classic Benedict is my favorite, hands down," he says. "It's the ham," which Benedict's serves thinly sliced, lightly griddled and with perfectly poached eggs and tangy hollandaise.   
So I'm a little surprised when the dish Rakun opts to prepare for this feature isn't the classic Benedict—or any Benedict for that matter. 
"I'm making our huevos rancheros," he says. "It's fun and fresh. It's got the crunch with the tortilla, there's black bean puree, ground chorizo, salsa verde and it's topped with feta. Overall it's light, fresh, but also comforting with that poached egg."
Rakun honed his ability to balance indulgent cuisine with more healthful cooking techniques at Mill Valley Kitchen, the Northern California-style restaurant he opened in 2011 in St. Louis Park where nutritional breakdowns are listed on the menu. He later opened the higher-end Marin in downtown Minneapolis, which in 2017 he remade as the more casual Mercy before adding breakfast and lunch spot Benedict's in October 2017. (Rakun opened a second Benedict's this summer on the skyway level of the new Hilton hotel in Rochester.) 
"Some of that has been deeply ingrained in me," he says of techniques such as using vegetable purees in the place of heavy sauces. "How does our food make them feel when they leave the restaurant, that's something I've really thought about over the last few years."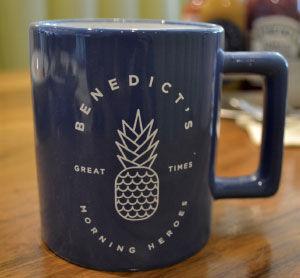 Benedict's, of course, offers plenty of opportunities to indulge, including its full bar and sweets menu with mini donuts and monkey bread. "It's a lot of the things I like to eat for breakfast," Rakun says of the menu he created. "My focus for a long time had always been on dinner, so to do breakfast, it's a lot of fun."
And what about the restaurant's full name, Benedict's Morning Heroes? "We're your morning hero," he says, grinning. "Our mission was, what we do, we want to have fun. We're up early, slinging eggs."
He and his staff have cultivated lots of regulars in Wayzata, which before Benedict's opened had seen morning mainstays Original Pancake House and Sunsets close. Rakun worked with the developer of mixed-use project, the Promenade, to be among the first handful of businesses to open there. Fresh-pressed juice shop Truce has since opened next door, with other high-end retailers taking space and joining two condominiums, office space and senior-living facilities. 
A pineapple, the international symbol for hospitality, is central to Benedict's logo, and it shows up in delightful instances throughout the restaurant. A wooden pineapple cutout here, a pineapple-shaped toothpick holder there, and, of course, on every coffee mug.  
"It's eclectic," says Rakun of the décor after I point to a couple of framed Humpty Dumpty prints and note the salmon paint color of the bar area. "It mimics some of our style we have at home and our cabin. And I just wanted to have lots of pink. It's warm, inviting, sort of a mid-century modern country club feel." 
Servers' shirts were originally pink, too, but that had to change after too many were quickly ruined with coffee stains, Rakun notes. 
Rakun is splitting his time among all four of his restaurants—"I've definitely put some miles on my car"—but still makes a point of getting in the kitchen as often as he can.
"I just worked on the line on Saturday," he says. "For me, that's a day off, getting to be in the kitchen, monkeying around with the guys." 
Rakun is on the lookout for more opportunities, including outside Minnesota. "That's always been my goal, to have a restaurant group," he says, adding his wife, Abby, who's the director of marketing and community relations for the restaurants, keeps telling him to come up with a group name that encapsulates all the concepts. "You got any ideas?"
I'm stumped, and admittedly preoccupied, as I'm about to dig in to the classic Benedict that's also arrived at our table. 
"I could eat eggs every day," Rakun says. If they're from Benedict's, so could I. 
---
Huevos Rancheros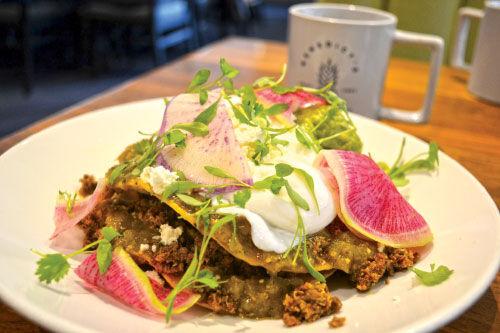 Ingredients: 
2 each corn tortilla, fried and seasoned with salt
3 Tbsp black bean puree
2 oz salsa verde
2 oz chorizo
2 each eggs, soft poached
1 Tbsp feta, crumbled
1 oz radish, shaved
1 Tbsp cilantro leaves
1 Tbsp avocado puree
Smear the black bean puree onto both tortillas and top with chorizo. Stack the topped tortillas on top of one another. Top with eggs and remaining ingredients and enjoy!