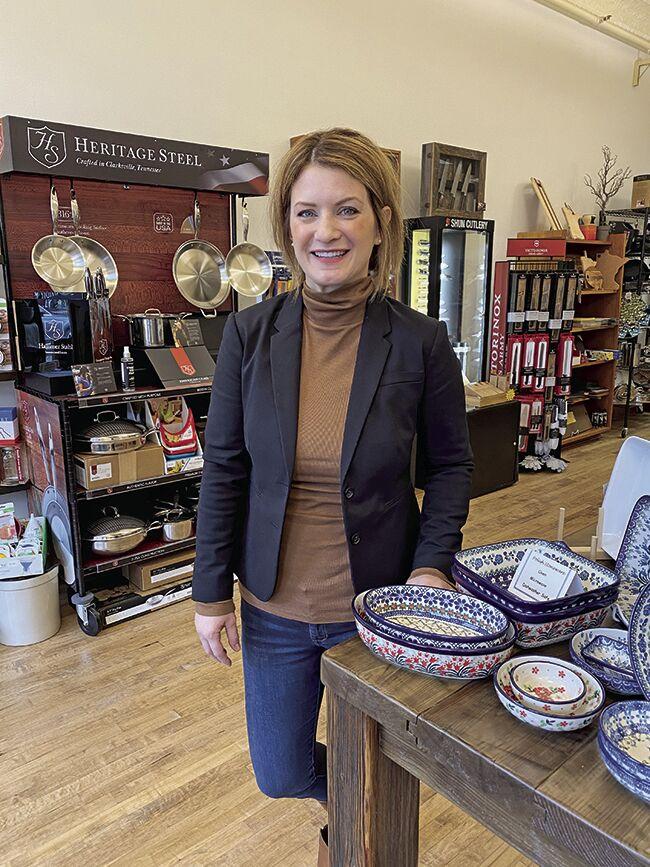 Who knew you could start a business with your camping gear's propane burner, a really good crepe recipe and a dream.
Becki Melvie has a few more things going for her than those three ingredients, including a degree from the Ballymaloe Cookery School, a 100-acre, organic farm and chef training school located in County Cork, Ireland. She also has boundless energy and a sense of showmanship tempered with a self-deprecating humor that makes her instantly likable.
When she first approached her husband with the idea of moving their young family to Ireland for three months so she could immerse herself in the culinary program, much to her surprise he quit his 20-year IT job and "we began the daunting task of prepping and packing our lives into four suitcases for the trip of a lifetime," she writes in her new cookbook, The Abundant Kitchen, named after her cooking school/retail shops.
The Irish cooking school was both exhaustingly tough and exhilarating. It taught her the value in having top-notch ingredients, since they grew much of their own produce, butchered their proteins and were close to the sea for fresh fish and shellfish. Meals were prepared with olive oil from the first pressing of the season in Tuscany, lobster caught earlier that morning, eggs just snatched from under a hen and butter and cheese so delicious its taste was forever imprinted on her mind.
The owner of the school is considered the Julia Child of Ireland, and along with the extraordinary culinary education, Melvie benefited from getting to know and befriending the international students also attending the school. The experience is so much a part of who she is that she's leading a culinary tour of Ireland—if all goes according to plans—next June. The tour, which was already postponed twice due to the pandemic, will visit Ballymaloe for an afternoon cooking demonstration and class, along with visiting nearby cities for seaweed foraging, cheesemaking and a whiskey and chocolate pairing.
Like the rest of the world, COVID has altered her business plan significantly. Pre-COVID, Melvie held cooking classes out of her Buffalo location and ran a crepe station every summer in conjunction with the local farmers market. "People (in town) call me the Crepe Lady," she says with a laugh. They also stop her frequently in the grocery store for advice on the ripeness of an avocado and other culinary wisdom.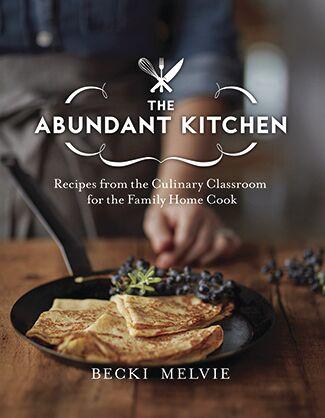 Her "signature dish" is the crepe, which is why its picture adorns the cover of her just released cookbook. When cooking crepes to long lines of hungry neighbors in the summer, it's all about technique, she says. "When you cook in front of people, it's a moment," she says, a moment that has to be a good one for all concerned. You have to do it fast, but in a showy manner to make it one-part performance art and one-part culinary.
Her dream three years ago when she formed her LLC was to create a community of foodies who could both buy gourmet items at her store and learn to cook elegantly simple dishes at home. The retail part of her dream is still intact—she opened a second location with gourmet food/kitchenware in Excelsior—but the cooking school is on hold, as is the crepe stand.
There is no set-up for group cooking in Excelsior, and even in the larger location in Buffalo, "our space doesn't have room for social distancing," she says. As sole proprietors, she and her husband can't risk getting sick. "We gotta keep the crew healthy," she says.
Not one to sit on the sidelines, Melvie spent her downtime writing her first cookbook, as well as hosting some online demos and talks, such as a recent one with the members of Women Who Really Cook, a networking group for women in all phases of foodservice.
Melvie decided to self-publish with Beaver's Pond Press to have more control of the process. The book began as a blog and ended up a "little novel about my story."
"I wanted to write a book to inspire others, with recipes off the cooking classes—what customers were requesting," she says. "A basic, beginner cookbook. My clientele didn't want to do anything complicated, (but they did want) wholesome, big flavor."
Her advice to anyone wanting to write a cookbook came from fellow cookbook author, and culinary instructor Arlene Coco: "Start with an idea." Sounds simple, but in a world filled with cookbooks, finding a niche is half the battle.
"Then you sit in 'writer's jail,'" Melvie says. "You sit in your chair for at least an hour (at a time), even if you're just typing 'I hate this, I don't want to do this.'"
The book is for sale on her website—it's also on Amazon, but the retail giant takes a big bite out of her profits. Having a cookbook has generated some sales for her stores, but that's not going to be the panacea for a pandemic. She hired a professional photographer and food stylist, and "had an illustrator draw my gadgets to make them cuter," she says. Marketing in the time of coronavirus is a challenge as well.
She gets an email twice to three times a day about when she's going to reinstate her cooking classes. "As a small business owner, it's so hard to turn away business right and left," she says, but as an industry, "we're not going back to where we were."
And to that end, she's added a comprehensive retail section to her website. "It's been a good driver for business," Melvie points out. "People browse online and then come in." While cookware doesn't sound as difficult to find the right fit as, say, a pair of jeans or high heels, people will often buy online and then return it to the store for the next size-up pan. She also stocks a lot of items from local culinarians, such as shortbread cookies and embroidered tea towels. "When it says "made in Minnesota," it sells," she says.
---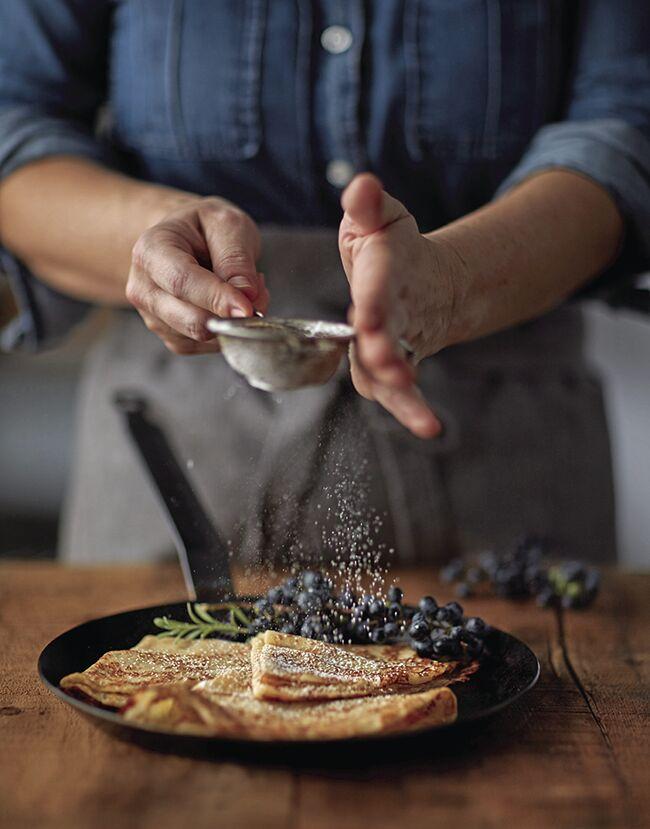 Becki Melvie 
Crepes
Ingredients
1 ½ cups all-purpose flour
2 ¼ cups whole milk
4 large eggs
¼ cups granulated cane sugar
½ tsp. fine sea salt
1 tsp. vanilla extract
2 Tbsp. butter, melted, plus more for pan
Toppings
 berries, whipped cream, powdered sugar
Instructions
Sift flour onto a piece of parchment paper, then set it aside. Whisk together milk and eggs in a large bowl. Add sugar, salt and vanilla and whisk well. Whisk in flour. Add butter and whisk well. If time allows, let batter sit overnight in the refrigerator. Batter will perform better after resting a bit. Minimum resting time is 30 minutes. 
Heat a small 8-inch skillet over medium-high heat. Drop in a bit of butter and let it sizzle. Drop a generous tablespoon of batter into the hot skillet, tilting the skillet to cover the base with bater. 
After 1 minute, flip the crepe by slightly loosening the edges of the crepe and then quickly slide an offset spatula under the middle of the crepe, lift and flip over. (The first crepe is often the worst). Cook for 1 minute more. Serve with berries, whipped cream and powdered sugar.