Sundays in the Bronx were strictly for church and dinner at grandma's house. And there were no excuses—no kids' soccer game, no work-related emergencies—if you were within driving distance, you were expected to put in the time with extended family.
Every Sunday, Angela Verrastro remembers, her uncles moved all the furniture out of the family room and brought in an oval tabletop stored in the garage and placed it on  sawhorses to make a table that 17 to 25 family members could gather around. (The flux in numbers were due to out-of-town relatives occasionally showing up.)
"It was an all day affair," Verrastro says. At 2:30 the family sat down and "the courses kept coming out." Her grandmother started cooking in earnest after church and the offerings covered all the courses, from antipasto platters to big bowls of pasta, meat-centric entrées and accompanying side dishes, nutcrackers for a variety of nuts, desserts, and "we finished with salad," she says.
Afterwards the men went for a walk and the women cleaned up. When the walk and work were completed, all the adults played cards. 
"We didn't eat out unless it was a wedding or a funeral or a first communion," Verrastro says. And when they did go out, it was always Italian. "Dick and Dora's was post funeral," she says, about a long running, family-style restaurant in New York City, but for the most part, "we never dreamt of catering out a meal."
The food was "peasant food" from Southern Italy, simple, comfort food, with rich red sauces and mainstays like "eggplant parm." The recipes were all her father's mother's, handed down to her by her mother and her grandmother.  
Not all Italian food is the same, nor is it unified under one flavor profile, she points out.  "Every family has a different style depending on the village (in Italy) they came from," Verrastro says. In her case: "I grew up never having a white sauce." 
When her ex husband's job brought them to Woodbury, a suburb known for its profusion of chain restaurants and few independents, Verrastro says she missed the small, family-run Italian restaurants she remembered from her time growing up in New York. 
She couldn't really describe the specifics of what makes a restaurant fit that NYC memory, but she says that when New York transplants find their way into her Angelina's Kitchen, they get that same NY vibe she remembers. 
Verrastro didn't start out to be a restaurateur. She was a stay-at-home mom to four daughters, when she started a small catering business out of her home. When her customer list outgrew her kitchen output, she found a commercial kitchen in a strip mall near Eagle Valley Golf Course in Woodbury, and started a take-out, catering and wholesale business. She hired a food scientist for food safety standards, and counted Kowalski and CobornsDelivers as customers. Display coolers are still filled with take-and-bake pans of sausage lasagna with red sauce and spinach lasagna with white, pastas and single-serving desserts. The top three desserts are carrot cake, chocolate cake (the same recipe her mom used for every family birthday party) and banana pudding.  "We sell a ton of desserts," she says, "and most are housemade." But not all of them, because one of Verrastro's core beliefs is: "Do everything yourself unless someone else can do it better."
The dish, Verrastro originally made for this feature was Chicken Hunter Style, a red-wine, tomato-based stew with sweet onions, roasted red peppers and chicken. But then she thought about sharing her grandmother's recipe with the competition and switched to a classic—Pasta Primavera. The key to this dish, she adds, is to use a ton of fresh vegetables, fresh pasta and fresh basil. "To me it's simple, just use quality ingredients and don't scrimp," she says. The dish is made to order, and the vegetables vary with the season. For the Hunter-style chicken...you're going to have to visit the restaurant for that treat. 
Because wholesale is lonely and the demand was there, Angelina's Kitchen grew into a restaurant, along with the takeout and catering. 
Verrastro is candid that she learned on the job. She had no formal training as either a chef or business owner; she went to college for journalism, but couldn't afford a job in that field thanks to student loans. Instead, she went into a high-paying job, she didn't enjoy until she quit to raise her daughters.
She started her takeout business when her girls were small, but had to call her grandmother and mother to get their recipes since so much of their cooking is done by taste and feel, not written-down recipes.
Trial by error was her teacher, she admits: "You learn as you go along but those are lessons you don't forget." She's made some bad decisions—such as the time she leased a space across the parking lot from her takeout space, thinking she'd set the restaurant up there, and had to run the food back and forth between the two spaces since the second space turned out not to be an adequate kitchen. But even though things have been unconventional, they've worked. And everything has been by baby steps, she says.
For instance, when she first opened the restaurant, she didn't get a liquor license and diners were encouraged to bring in their own wine. When she noticed how many people enjoyed wine with dinner, she realized she was missing a revenue stream and  ponied up the money for a beer and wine license. 
A later addition,  live music every night, created an atmosphere where a full liquor license was called for, but because they are especially expensive in Woodbury, she waited until she was sure she could get a return on that investment. It was still a hard check to write. 
"I had no idea how difficult it would be," she says about the restaurant business. "I thought you cook good food, people would come and enjoy."
A s one of a few independents in Woodbury, her dining room and patio seating overflow some nights into the group dining space. And even with all these profit centers, it's still baby steps. 
---
Spaghetti Primavera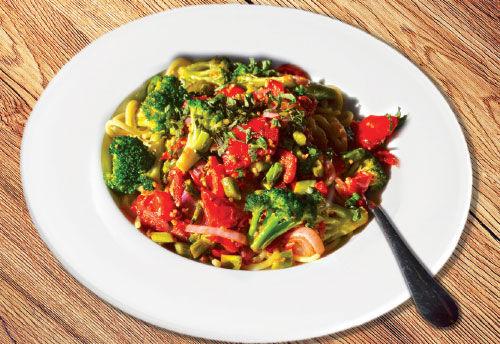 Ingredients:
3 Tbsp  Olive Oil
1.5 cups Diced Vegetables of choosing
2T. Minced Garlic
Kosher Salt to taste
Black pepper to taste
4 ounces fresh spaghetti
Over medium-high heat, warm 2T. olive oil 
Add 1 Tbsp minced garlic and a pinch of kosher salt
When garlic is golden, add vegetables and coarse salt and black pepper to taste.
Sauteé until veggies are cooked al dente
Bring salted water to boil and add 1 serving of fresh spaghetti. When cooked to al dente, remove from water and place in pasta bowl.  Top with 1 Tbsp of extra virgin olive oil and then top with sauteéd vegetables.  Garnish with fresh basil.