"I'm going to tell you a story," Angel Luna says as we sit in the dining room of 6 Smith overlooking the vastness of Lake Minnetonka and its handful of yachts still docked in late October. "I'm not ashamed of it."
At 19, Luna and two friends came to the U.S. illegally. Luna, who grew up in Veracruz, Mexico, wanted to find steady work in order to send money back to his parents and sisters. "I was the saint," he says, grinning mischievously. "My brother was the black sheep. I was a mom-and-dad boy."
The decision wasn't easy. "As soon as I left I couldn't stop crying," he says. "That's how scared I was."
Their hired "guide" led them on a 22-hour hike across the border. Luna says he remembers thinking at the time that if he got caught and sent back, he wouldn't attempt it again.
When they reached Arizona, the situation turned ugly. Luna says he still isn't sure why—perhaps they didn't pay enough money—but the trafficker locked the five of them in a room in an abandoned hotel. They were incarcerated for five days without food or water, until a security guard heard their shouts and unlocked the door.
"He said, 'You need to run, by law I have to report you,'" Luna says. And run they did. They spent three days camped out in an Arizona bus station with no money and no options. Finally, Luna says he started cleaning the restrooms in the barber shop and the owner, impressed with his initiative, bought the three of them bus tickets to Los Angeles, where she felt they'd have more luck finding work.
"It was crazy," he says. "People don't do that."
Through a series of fortuitous situations perpetuated by the kindness of strangers, cousins and acquaintances, Luna ended up in Minneapolis where he found a job—and a career—in a kitchen. He worked his way up the ranks, with a short sabbatical working construction because it paid better. And yes, he became legal, got married and, "pays taxes." 
"I always try to do things right," he says. "I was a poor, but well-educated kid."
He met his wife when they both worked at Tucci Benucch in the Mall of America. For the past six months, Luna has been the executive chef at 6 Smith in Wayzata, where his father-in-law, Randy Stanley, is the owner and his wife is the general manager. Luna embraces the family connection. 
"I'm the luckiest man," he enthuses. "I do what I love with the people I love." Luna admits that he's still learning, but what better mentor than Randy Stanley. "He has experience floating out of his head," he says about the Twin Cities hospitality veteran, who was the longtime general manager at Manny's Steakhouse in Minneapolis. 
Luna's role was the chef de cuisine when 6 Smith opened a little over a year ago. "I helped create the menu so was pretty happy with what we had going," he says about his promotion. Seasonal restaurants can be a beast. "In the winter it's a kitty; in summer it becomes a lion," he says about 6 Smith.
While he wants perfection in the kitchen, he also wants to have fun. When being photographed in front of the kitchen, he received catcalls from his crew. He grins and does a little dance for them.
When Luna came to the Twin Cities, he had to find his own way through closed doors, so he makes a point to teach his staff both the technical parts of cooking, as well as the "emotional stuff." 
"I've been in places as a cook," he continues. "They train you to cook, but that's it. My goal is to have people grow. I want the dishwasher who becomes a cook, the cook that becomes a sous chef."
Kitchens are like any workplace, he contends. People want to know the score. "I've never heard someone telling me I'm doing something wrong or right," he says. "They just fire me.
"I manage myself to spend 15 to 20 minutes a week with each employee. You have to know their needs as well as them know yours."
The executive chef role fits Luna well, with one exception. When guests ask for the chef's recommendations, they look at him and say, "How can I trust a skinny chef," he says. "I eat like crazy and I am always a skinny kid." 
---
Beef Cheek Nachos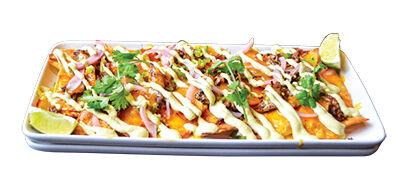 5 pounds beef cheek
1/4 cup canola oil
2 cloves garlic
1 ½ pounds yellow onion, diced
1/2 pound carrots, diced
1/2 pound celery, diced
3/4 cup tomato paste
2 cups red wine vinegar
1/2 gallon beef stock
2 bay leaves
2 sprigs of fresh thyme
1 sprig fresh rosemary
Poblano sauce
1/4 pound Poblano peppers, roasted and peeled
1/4 cup canola oil
2 cups lemon juice
1 tsp salt
1 tsp pepper
1/4 cup sour cream
2 jalapenos, roasted and peeled (add only if you want more spice)
Cure beef cheeks with salt and black pepper overnight or at least 2 hours prior to preparation. In a roasted pot, brown the meal without burning it. Remove cheeks from pot and add veggies to pan and cook for 15 minutes. Add tomato paste, cook for 5 minutes.
Deglaze with red wine, add beef stock and herbs, add beef cheeks back in to the pan.
Cover and bake at 350 degrees F for 2 ½ hours. 
For poblano sauce: Coat the peppers with oil and roast them. Once they are roasted, place them in a bowl and cover it with plastic so they are easy to peel.
Place the peppers in the blender and puree them, add the remaining ingredients and blend until smooth. Add the jalapenos only if you prefer spicy.