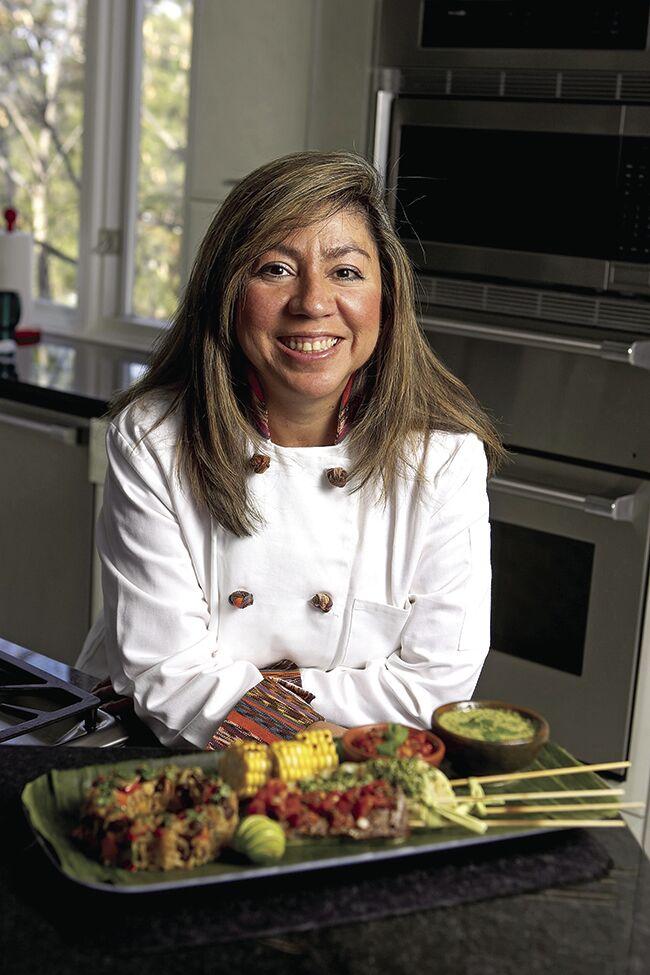 Before Amalia Moreno-Damgaard turned seven, she was proficient at repackaging bulk bags of salt and sugar into individual packages and sealing them with wax from a candle, to be sold in her maternal grandmother's variety store in Guatemala.
The list of what her grandmother's store stocked is delightfully eclectic: "She sold salt; made clothes for indigenous people, (including) special attire for weddings and funerals; she sold shoes; fireworks for religious celebrations; buttons—she was a tailor—chorizo sausages…," Moreno-Damgaard says, ticking off the endless list of goods and services. Nothing was wasted. Coffee cans were recycled into storage bins or planters with holes poked in the bottom for the water to drain.
When her grandmother was occasionally paid for her services or goods with crabs from the river or a live chicken or duck, Moreno-Damgaard remembers her grandmother giving the fowl clean water and food for at least a week so that it would be "clean" when she butchered it. "She was very giving, very strict. She wouldn't let us eat street food," Moreno-Damgaard says. "I lived with her for five to six years, where I saw this wholesome living." A lifestyle that wasn't a given but a conscious choice in the U.S.
Her parents had sent her and her siblings to live with her grandmother during their divorce. Her father, who was an OB-GYN physician in Guatemala City, returned several years later to bring her and her little brother to live with him. She was enrolled in a French-owned Catholic school, where she had a strict Catholic education and learned to speak French. She learned English as a teen-ager.
Although Moreno-Damgaard is a classically trained chef, she admires self-taught cooks like her grandmother. She's traveled the world, planting her flag on all seven continents where's she's learned to prepare the local cuisine.
"I don't cook with chefs; I prefer to cook with regular cooks," she says of her travels. "I don't seek out chefs, I think people who love to cook have an innate ability to transfer knowledge to teach you something about cooking that's unique and something more pure. Their knowledge is traditional knowledge not something they learned in a professional kitchen."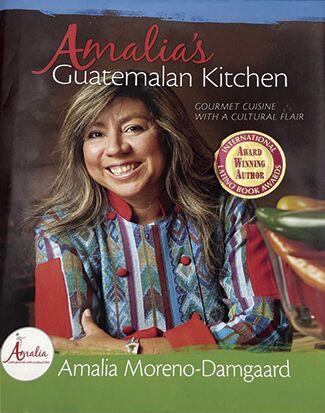 The difference, she continues, is "professional versus national cooking that's been a part of people's lives. And that's what I learned from my grandmother." Her definition of a good cook is "someone who can put together an excellent dish and season it well, and it tastes like home."
She may not have known at the time, but all those various adventures in her grandmother's kitchen and store were setting her on a life journey in entrepreneurship. She came to the United States in 1981 to attend college. While in grad school she met her now husband, who is from Copenhagen, Denmark. Both were in international banking, and they traveled the world soaking in the culture of the places they worked and visited.
Her own business came to fruition, she says, "when I started to connect food and culture, they go together and it's a natural way to not just cook" but to connect with people. "My mission was born from this lack of understanding around Latin culture."
She's the head of her own company, Amalia LLC: Latin Gourmet With a Cultural Flair, a national woman-certified business that helps organizations appreciate Latin American culture and food.
She published her first cookbook in 2012, an award-winning, hefty tome with 170 recipes from her grandmother and some of her own. During the pandemic, she started writing her second cookbook which will continue to highlight recipes from Guatemala, but extends into Central America and Mexico. "The two books are culture-based with history and a lot of personal anecdotes with cultural info tied to each region," she says. Enveloping herself in the research and recipe testing, she says, saved her from a lot of the stress the pandemic has afflicted on everyone, especially people who own their own business and don't have a deep bench if they get sick.
"It's affected my mental state, but it's also forced me in a good way to go in a different direction for my business," Moreno-Damgaard says. One opportunity has been hosting virtual international experiences. "Through Zoom and other platforms, you're no longer limited to your region, your state, you can go anywhere in the world"—while still sheltering in place. "Good opportunities have opened up due to that," she says.
Moreno-Damgaard is a familiar face on local TV shows. She demonstrates Latin cooking, regularly on Twin Cities Live. Her son, who is now 22, used his pandemic break from Washington University to help her set up an in-home studio for virtual events. He also helps critique the scripts she writes and troubleshoots the technology.
While her modern kitchen makes it easy for her to demonstrate cooking techniques, she says she's more impressed with her grandmother's technique with only a wood-fire clay oven. "She had to start the fire and keep it going all day long for breakfast, lunch and dinner," Moreno-Damgaard says. Throughout the day she'd feed it little bits of wood, opening the various windows on the oven to moderate the heat. What takes Moreno-Damgaard 20 minutes to make, took her grandmother at least an hour. But while Moreno-Damgaard appreciates not having to use a wood-fire, she misses the smoky taste that accompanies that method of cooking.
The recipe she shares here—a chicken stew in a light cream sauce with flower buds—is her go-to dish that brings back fond memories of her grandmother's cooking. "I come from a background where you can make things happen without all the bells and whistles," she says. "Whatever you have is a blessing. The average home in the U.S. is rich, in appliances, in wealth. I look at a fancy kitchen and I say, 'do I need that?'"
---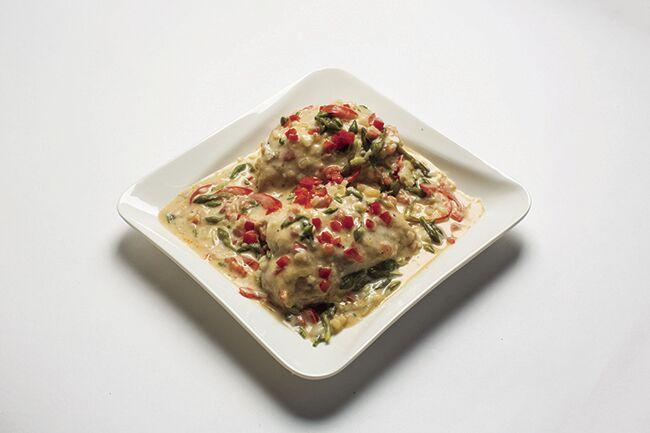 Amalia Moreno-Damgaard
Pollo en Crema y Lorocos
(Chicken with Loroco Flower Buds and Cream Sauce)
Pollo en crema y lorocos is a delectable dish from Oriente in eastern Guatemala, a dish I treasure from my grandmother's home cooking. Loroco is the flower bud of a plant native to Central America. It is delicate, aromatic, has a strong flowery-earthy flavor, and holds up well during cooking. Loroco is best when eaten fresh. Alternatively, use frozen buds. 
Serves 4 to 6 people
Ingredients
4 to 6 skinless chicken thighs, visible fat removed
1 1/2 cups fat-free, low-sodium chicken stock 
2 corn tortillas, torn into small pieces
½ cup julienned yellow onion
2 minced garlic cloves
¾ cup julienned red bell pepper
½ cup small-diced roma tomatoes
1 tablespoon butter
⅓ cup frozen loroco flower buds, thawed and separated
½ cup fresh Guatemalan cream (or Latino table cream)
1 teaspoon kosher salt 
Freshly ground white pepper
½ cup minced red bell pepper, sautéed
Instructions
In a medium pot, cook the chicken in the stock with the tortilla pieces for 20 to 30 minutes. Transfer the chicken to a dish and keep it warm. Mash the tortillas and stock until they are well incorporated. Set aside.
In a medium skillet, sauté the onions, garlic, peppers, and tomatoes in the butter for 3 to 4 minutes. Add the loroco and sauté 1 minute. Add the cream and the thickened stock. Season the mixture with salt and pepper. Return the chicken to the skillet and spoon the sauce over the chicken. Simmer covered for 5 to 10 minutes. Taste and adjust seasonings, if needed.
Serve the dish garnished with minced red and green peppers.
Recipe is from Amalia's Guatemalan Kitchen-Gourmet
Cuisine with A Cultural Flair