Aaron Slavicek is soft spoken, quick to smile and pleasant to be around. He's like a breath of fresh air. Before taking his post as executive chef of Bar La Grassa — first by way of several one-year stints each at Solera and La Belle Vie — he stepped down as executive chef of Cafe Maude to become an unpaid intern. 
A restaurant guest was so impressed with the menu, says Slavicek, that he was invited to go and live with the diner's mother in San Sebastian, Spain, and learn world-renowned Basque cooking. So, he packed up his knives and went. He started at the top-rated restaurant at the time, Arzak, a three-star Michelin-rated bastion of New Basque cuisine. Slavicek found it to be "foofy."
"I understand modernist cuisine," he says, "but it's not my favorite." So he moved on, to Zuberoa, also Michelin rated, but this time situated in a 300-year-old farmhouse run by two brothers, focusing on traditional Basque cuisine. Here, he felt at home: "Ninety percent of the ingredients used were from that area. They imported chocolate and not much else. They're very proud of their wines and cidres; we had fishermen knocking at the door at 7 a.m. with their morning catch." 
While Slavicek says it was challenging to step down from being the boss to becoming the lowest man on the totem pole, he thinks it was the best thing he could have done for his development as a chef. "It made me fully appreciate all the roles in the kitchen."
This back-to-basics approach may be the key to his success at La Grassa, where he says tutelage from chef/owner Isaac Becker begins with quality. "Pretty much the entirety of the line gets prepped new from scratch every day. [Becker's] focus has never been about cost. If there's something he can do to make a dish better, he will do it," says Slavicek.
Like any young chef, he says he once suffered from attempts to be over creative with a dish, by putting three too many elements on the plate. But under Becker's wing, he says he's learned the way of rending just three ingredients into a finished product. "His focus is on simplicity and everything being perfect and absolutely the best that we can get — that's the whole philosophy," Slavicek says of Becker.
Slavicek refuses to be placed in any box, culinarily speaking, and wants to clear the air regarding the notion that La Grassa is an Italian restaurant. "We certainly aren't — there are Spanish dishes on the menu, and we have a broad Mediterranean influence," he says.  Slavicek won't name any one dish or cuisine he has any special affinity for, even when I try to push him to name something he'd feed his mom if she came in. "Whatever she wanted," he simply says. "She likes seafood. And prawns."
He explains that the best part of his time in Spain was the diversity of the staff. "I could stand in the kitchen and see people from all over the world. From Korea, from Japan — it was amazing." On their day off, chefs and cooks gathered in someone's apartment and cooked dishes from their home countries, sharing them with one another. It was this experience, Slavicek says, that gave him an affinity for every kind of food, and when the day comes to open his own place, it will be small, and eclectic. 
He shuns the chef as celebrity trend, and worries for "the whole generation of young cooks who are losing sight of what really matters."
But lest you think Slavicek is completely beyond reproach, I do draw one story out of him. His first cooking gig was making omelets to order at Ciatti's in Burnsville, based solely on the wage being higher than any other teenage job. One day, the mother of a girl he had a crush on came in to dine. With a bit of a sly grin he recalls, "She was so impressed that I was the omelet boy, and then I got to thinking, maybe there is something cool about this whole cooking thing."
---
Fregola and Clams
Pasta Water
2 gallons water
¼ cup diamond crystal kosher salt
2 cups dried fregola (preferably from Sardinia)
Bring water to mellow boil. Add the salt, stir with wooden spoon until salt is dissolved. Add the dried fregola, cook for 8-10 minutes, until tender but still has a bit of bite. Strain fregola (reserve some pasta water for later), toss with some olive oil and cool rapidly. 
Clams
3 Tbsp olive oil
2 Tbsp sliced garlic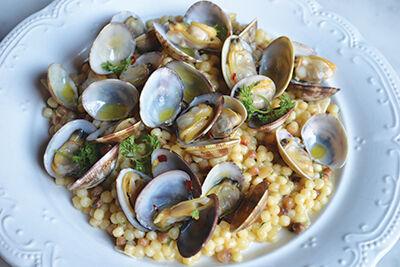 Large handful fresh manila clams, cleaned
Good pinch of salt
Couple glugs of dry white wine
Nice pinch of chili flake
1½ cups fregola, cooked
Heaping Tbsp butter
¼ cup Grana Padano, grated
Splash of Pernod
Pinch of parsley, sliced
Squeeze of lemon
Salt, to taste
Sprinkle of fennel pollen or fresh ground toasted fennel seed
Over medium heat: toast the sliced garlic with olive oil in a 10-inch sauté pan. Stir with wooden spoon. Once the edges of the garlic turn golden, add the cleaned clams, white wine and chili flake away from the flame.
Once the pan calms down, put it back on the heat and cover with lid. After a bit, carefully open the lid to see if any clams have opened. Use tongs to grab the clams as they open and place in a separate bowl, keeping covered until you finish the fregola. 
Over the heat, add the cooked fregola and butter. Once the butter melts, add the cheese, stirring often with wooden spoon. Add the pernod; add the rest of the ingredients. Taste, adjust, taste, then top fregola with clams and a bit more fresh lemon juice.