Technically, the siblings who are the fourth generation of Surdyk's ownership don't have birth order to help them decide who's in charge, although Molly Surdyk claims that she's the youngest of the triplets by a few seconds.
Now 35, Taylor, Melissa and Molly all grew up in their family's business. "We sold brats, we sold pretzels during Oktoberfest," Molly says, but "we were never told we had to be in the business."
Taylor, however, as the only male in the trio, may have felt a bit more pressure. "I'm lucky the family business isn't car tires," he jokes.
All three studied unrelated subjects in college, but they all willingly returned to add a new generation's input to the family business. They are collectively responsible for the latest addition to that business, a full-service restaurant in the same building as the liquor store/cheese shop that has been a mainstay in Northeast Minneapolis since 1934. They also have a catering business.
Sidebar, a restaurant patterned after Surdyk's Flights Wine Market & Bar at Terminal 1 at Minneapolis-St. Paul International Airport, broke ground right about the same time COVID-19 started shutting down the economy. "When we started construction, COVID was here," Molly says, but "we were ready to break ground and we had the financing figured out" so there was no reason not to continue. All three siblings are heading up the project (Melissa was pulled into another meeting and wasn't at the interview).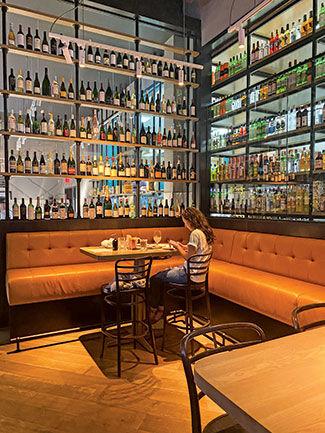 At Flights, they were the first independent operator to work at the airport, Taylor says. The original plan was to do just a bottle shop, but they quickly saw the advantage of having a cheese shop as branding for the flagship concept. "We saw it as a giant billboard," Taylor says, and a way to break into foodservice. MSP airport is busy, and therefore, Surdyk's did an impressive volume of food out of one small line.
The airport outlet made money. "We had people doing layovers so they could visit us," Molly says "We had a lot of regulars." When their lease was up, a larger company bid against them for the spot, and won the contract, Taylor adds.
A smaller version still remains at Terminal 2, but they license, not operate, it. "It didn't work to have one location," Taylor says. It sold in December of 2019.
Sidebar, their stunning new restaurant had been in the works for a couple of years. Designed by Shea, the space takes advantage of being located in the destination liquor store on East Hennepin Avenue. Although they considered other sites, "the rent's cheaper here; we own the building," Taylor says.
What they won't miss about the airport, Molly says, is the passengers' luggage they constantly tripped over and having to go through the security line every time you went to work.
Sidebar has its own entrance around the corner from the parking lot main entrance. A stylish roll-down glass door opens up the dining room to the sidewalk seating, which has been made more generous under COVID guidelines. Another entrance/exit is through the cheese shop, and once things settle down, they will start tracking how many guests exit the restaurant and buy something from the cheese shop—which also has homemade food, such as quiches and pimento cheese spread—or the liquor store.
"We stopped tastings in the store, so this replaces that," Molly says about the restaurant. Mary Richter, the culinary director, has populated the menu with popular fare such as a Lobster BLT and an Asian twist on cheese curds.
In all, they borrowed about 1,700 square feet from the liquor store, some of it empty space, so as a result lost only a few SKUs.
When the siblings started their wish list of what the restaurant would look like, "we knew we wanted a big bar, because we like to sit at the bar when we go out," Molly says.
The menu will change seasonally and there's no chance of ever running out of a particular bottle of wine.
The three work well as a team. "As siblings we all have our own strengths," Molly says. Molly handles the HR and employee side—she's an English major who went to school to be a teacher. Taylor is the numbers guy, who is good at conceptualizing the business, and Melissa works on the marketing and PR, in addition to being the beer buyer and sake specialist. When work gets hectic, they're sorry they aren't quintuplets. "We wish we had a lawyer and an accountant," Taylor quips.
When you're the fourth generation in a family business, you're never alone. "Dad has a lot of advice," Molly says, and even though he's the idea guy, he "thought this was risky even before COVID."
The neighborhood, however, has embraced the new restaurant, especially since several nearby favorites, such as Bardo and Keegan's Irish Pub, have closed.
As might be suspected sales in the liquor store are doing well. When the governor scheduled his first news briefing on his stay-at-home orders for 2 p.m., "we had a line around the building at noon," Taylor says.
"People buying here are treating themselves to a more expensive bottle of wine or scotch," he says. "We're selling more hard liquor." He attributes it to the fact that while sheltering at home people had more time to cook and making themselves a special cocktail was part of the ability to treat themselves in an uncertain time.
"We opened in 1934, and alcohol never goes out of style," he adds. But for those who still want to eat out, they can have that special cocktail as a Sidebar.