The story of Baker's Field Flour & Bread begins in the aptly named Food Building.
"When I sold Rustica last year, I knew I had to do something else," says Baker's Field founder and former Rustica Bakery owner Steve Horton. Seeing space in the Food Building, Horton reached out to owner Kieran Folliard about an idea he'd been considering to take flour to a new hyper-local level. 
It was a perfect fit. The wild yeast breads at Baker's Field fit the fermentation theme of their Food Building neighbors Red Table Meat Co. and Lone Grazer Creamery, as did the do-it-yourself mantra of the mill. Baker's Field isn't just a wholesale bakery providing artisan breads to local restaurants and grocers; it's a producer of locally sourced flour, milled on-site.
"As a baker I wanted to explore and try to reimagine where our flour comes from," Horton says of the inspiration behind the new space. Commercial flour is blended, combining grains from various regions and harvests into a single bag. 
"You don't know how a certain grain performs or how it tastes," he says, because of the large-scale production process. Exploring local sourcing will highlight the terroir of different farms and grain varietals. Baker's Field had a mill custom built for its facility, and it makes roughly 500 pounds of flour per day, then features that flour in breads to showcase the product. Breads are sold at restaurants such as the adjacent Draft Horse, and both breads and flours can be purchased at area co-ops.
Horton's business plan has two distinct avenues and profit centers: a flour mill and a bakery that feed and inspire the other. But while small-scale milling isn't new, Horton stresses, it was an uphill fight with the city just to make it happen.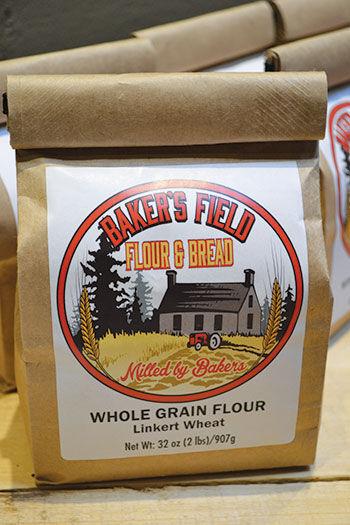 Early on, Horton discovered the City of Minneapolis defines milling as an industrial process, forcing a zoning change that, while it met little resistance, still took roughly six months before construction could even begin.
"There are a lot of people who have been milling grains for a long time and those are the pioneers," Horton says. "Artisan bread has been going on close to 25 years but it's moving now to a new stage," with new ingredients that make each loaf unique. 
"We thought the bread would demonstrate the flavors and quality of the flour," Horton says, though the two elements will ultimately reach different markets. "Eventually I'm hoping for a 60-to-40 flour-to-bread [ratio], but right now it's about 95-to-5 bread to flour," he says of the company's launch and as area bakers familiarize themselves with the quirks of new flour. The unique grains require a learning curve, both in milling and in baking. Fresh flour requires different baking techniques, such as the amount of water need to hydrate the dough, he says. 
Now that it's open, running the small-scale mill continues to be Horton's biggest challenge. Before the first 48,000-pound shipment could be delivered, Horton needed the grains cleaned. 
"We're too small for an elevator," he explains, because the industry is geared toward large-scale production. Cleaning 100 to 150 bushel batches isn't worth the time for many elevators, but with research he found Falk's Seed Farm in Murdock, Minnesota, to handle the process.
"The flour will take some time to penetrate [the market]," Horton says as he looks to the future, but it will become the company's main focus. Beyond co-ops and farmers markets, Baker's Field breads are sold to the foodservice industry and not retail, but the flour will be sold through all available avenues. As Baker's Field acquires more grains and develops new flours, Horton hopes it will appeal to a wider range of bakers. Pastry flours aren't in the plans, but he'd like to develop more general use flours while still emphasizing whole grains at the company's core.
Baker's Field sifts its flour with the germ still intact, so between germ and bran there's more mineral and ash content. It's darker than most white flours and looks like a wheat flour to customers. "There's a little bit of sweetness, real subtle," he says of the difference, adding, "[and] more nutrition and more flavor."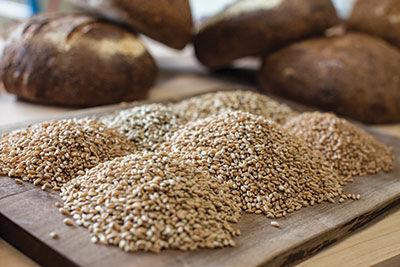 Nutrition is part of the story, albeit one that's dependent on the baker. Baker's Field breads lean on the base ingredients of flour, water and salt. "The reality is whole grains are great for people," Horton says. "Even people with gluten sensitivities—not a celiac, that's different—there are still grains they could be eating that are so good for digestion." Baker's Field has a core lineup of seven breads, with a seeded bread to rotate seasonally. There are a few enriched doughs that focus on the yeast profile.
Along with mastery of the small-scale mill, availability is key to Baker's Field's success. To start, operations are limited as Horton tests grains for the first time, tweaks formulas, and connects with more farmers. 
In its first commercial grain purchase, roughly 70 percent of the grains were purchased directly from farmers with the remaining 30 percent coming from brokers. As the brand and reputation grow, Horton sees the circle of farmer, mill and baker becoming a tight loop where he and the farmers will talk out plans and work in tandem. It's all about mastering the logistics to create a new process and a new local craft flour.
Baker's Field is drawing attention, in part because of Horton's background with Rustica (he's also a three-time James Beard Award semifinalist), but he views his flour mill as one of many businesses in a new artisan environment that returns milling to the Mill City with a truly local flavor.