Short or Tall makes perfect sense once you see the logo: a fork inside a wine glass inside a beer glass—a sort of turducken for drinkers. The name of the restaurant is a takeoff on the bartender's query when you order a beer: "Would you like a short or a tall?"
The name isn't the only thing unique about Short or Tall Eatery & Drink Hall in Rogers. The distinctive silver, two-story building backs up to a retention pond—"I call it a lake view," owner Brian Conneran quips. And that's not too much of a stretch. The water feature is a serene sight from either the downstairs patio or the wraparound deck seating upstairs. A tall, unattached wall housing an outdoor fireplace has the word "Elvis" on it. Why Elvis? "If I had a dollar for every time I heard that," he says, grinning. "When you say 'Elvis' it (elicits) an immediate smile."
The modern twist on the A-frame is a beacon to both interstate travelers and locals. Conneran built the freestanding restaurant in the parking lot of his Holiday Inn Express because as a limited-service hotel, it needed a nearby place for guests to eat—and drink. It also solved a problem for corporate clients wanting a couple of drinks with dinner, but shouldn't be placing the company at risk by drinking and driving. 
On tap are 80 beers, mostly Minnesotan—along with wine and a handful of keg cocktails. "We have a selection of beer that you'd have to drive downtown for," he says, referring to the limited menu of beers found in most suburban restaurants. The oversized island bar allows drinkers to look across at other drinkers rather than a wall, and also to view the beer kegs upstairs in a glass room. "We're showcasing, not brewing," Conneran says about the working keg display.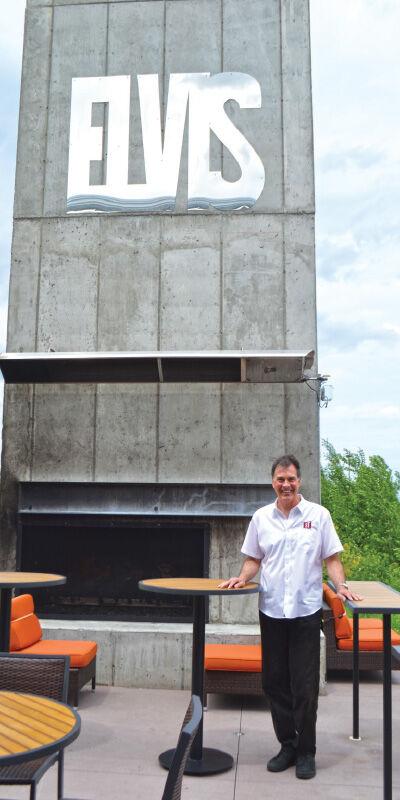 But perhaps the most unusual thing for a suburban casual restaurant that serves mainly burgers and fries is that starting at 3 p.m., it's 21 years or older only. "People start drinking earlier than I thought they did," he says. 
Conneran says he publicized the age restriction on Facebook before opening and the comments were split 50/50 for and against. Now that it's been opened around 10 months, the consensus favors adults only.
Because "adults-only" has a bit of baggage from usage elsewhere, it takes a bit to explain why Conneran decided to ban minors after 3 p.m. "We get busy and it's not convenient for families," he says. The music videos get a bit edgier, the place gets loud and people are standing two deep at the bar. Seating is limited and can't be rearranged to fit a high chair. On the left are half-booths so couples can sit next to each other. Half the sales are liquor. The heated patio can accommodate about 50 most months, and the rooftop seating, especially the two-tops, are in demand except in rain and snow. 
"I'm not anti-family … I love kids," he says, not at all defensively. "My youngest is 19 so she can't come in" after 3 p.m.
Local teachers tell him they love the age-restriction because they can sit at the bar and enjoy themselves without worrying they'll be bothered by students (parents are another matter).
"It's not a big space and he wanted to sell beer and cocktails to lots of people," says Pat Weber, owner of Mise en Place, who consulted on the menu and operations. "Selling kids little cheese sandwiches wasn't going to get him to his numbers."
And while he has a deeply ingrained sense of hospitality, Conneran is analytical about restaurants, Weber says. 
For his part, Conneran admits that he's not a burger-and-fries guy—he prefers shrimp and salmon, two things not on the current menu—and he's not much of a drinker. "This is not my playground," he says. "I built it as a business using systems."
Conneran started his multi-unit restaurant career in the franchised segment with Subway and then Little Caesars before getting into hotels. He lives in Grand Fork, North Dakota, so having a hotel next door to his current project comes in handy. 
Short or Tall is his first independent endeavor and he's enjoying making the decisions, albeit he's had lots of help from experts such as Weber, Boelter Premium, Lee Branding and Studio M Architects. "I listen to everyone," he says about his advisors, "but I'm the only decision maker. I know what I wanted." For instance, in order to have the view of the kegs above an island bar, all the pipes had to come through the floor. The lines for the kegs drop down from the ceiling in a decorative silver half rainbow. Expensive details.
He has 42 employees and the vast majority are women, but they dress in jeans and T-shirts, nothing provocative. 
Jenna Brekkestran, a server who enjoys working doubles, quit three jobs in order to work at Short or Tall. "It's close to home," she explains. "It's a good addition to Rogers, we needed a place like this."
But equally important: "It's nice to work for people who actually care."