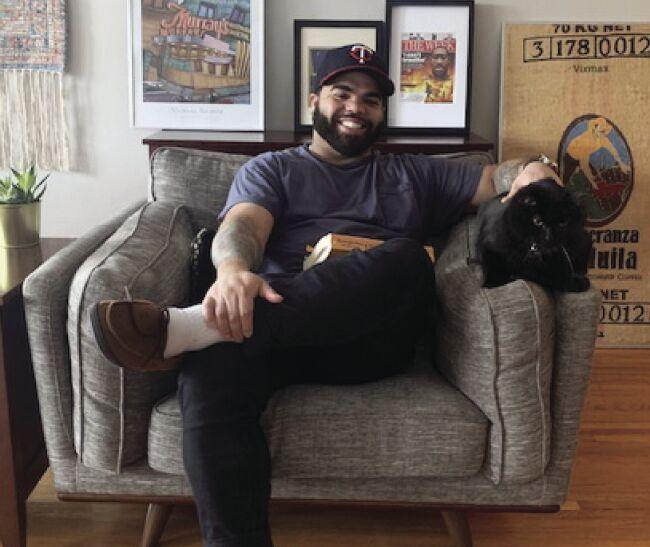 Joey Johnson – Age: 30  •  Murray's, Minneapolis
 Joey Johnson, a server at Murray's, just turned 30 in January and like every birthday, it was a day of reflection for him. And while it was a bit of a low to be leaving his 20s behind, "I'm excited about the foundation I've built for my 30s," he said. At 23, he had no money in his bank account, now he's wiser, which is especially important during a pandemic when dining rooms have been closed.
Johnson grew up in South Minneapolis and attended Augsburg College for four years, majoring in business management. He picked that major, he admitted, because at the time, "I thought of success as someone who wore a suit and tie and carried a briefcase." Now he's changed that definition.
In between business internships, he earned extra income as a server. His first serving job was for an assisted living facility and he discovered he enjoyed chatting with and seeing the same people every day when he brought them their lunch and dinner—until one day you didn't see them. "That affected me more than I thought it would," Johnson said. 
When serving became his primary job, he rationalized that it was the hours and flexibility and that thanks to tips you could make a relatively good amount of money in a short amount of time. But he wouldn't have said he was proud to admit he was a career server. That's changed, in part because of the level of professionalism of the staff at Murray's and the supportive management. But, in addition, he's seeing societal changes in the way serving is viewed. "Now there's a level of acceptance that you make your own purpose, and what you take out of the job is up to you," he said.
His service style is a perfect fit for the upscale steakhouse. He believes in reading the table and mirroring his customers as to the level of service and engagement they want.
While the pandemic has stymied his love of travel, the time off reintroduced him to sketching and painting, reading and writing. "It's healthy to create and not just consume," he said.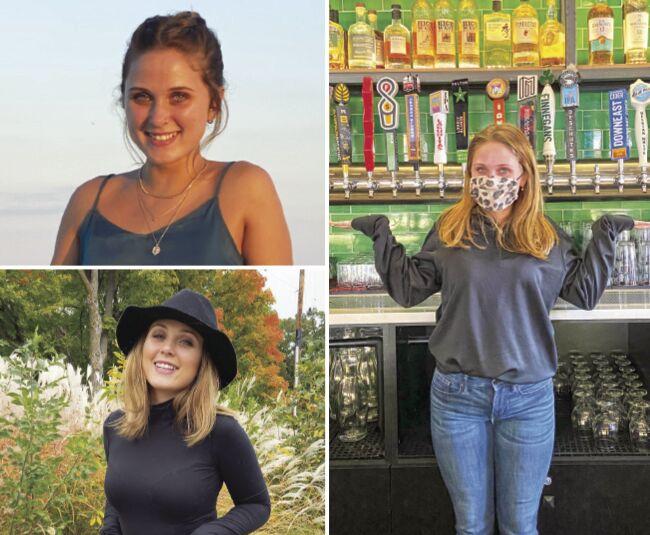 Chelsey Noack – Age: 25  •  The Block, St. Louis Park
Since her move from server to bartender, Chelsey Noack said "make, shake and pour is what I've been all about." Of course, that was pre-Covid. Lately, she's been all about helping put together takeout and delivery orders at The Block, one of the restaurants in the Craft & Crew Hospitality portfolio. 
In addition to taking orders over the phone and internet, she's been bagging, running the food out to the cars and helping with the restaurant's outdoor pop-up. "I get my steps in, I'll tell you what," she said enthusiastically. 
The outdoor patio is not for warm-blooded people. "I tell them all to dress like you're sledding and then some," she said. Dogs have their own menus at Craft & Crew restaurants and are given mats to lie on and treats, plus the owners provide extra blankets, and of course, pick up the dog's tab.
Servers, she pointed out, can't wear winter gloves when they're handling the food. Which is tough, but not as tough as not being able to pet the dogs.
The reason she enjoys her bartending tasks so much, she said, is that people who sit at a bar know what they want and are open to longer conversations than a server can have. "I love the interaction and that you can build a regular clientele," she said. 
The Block is a great place to work, she said, not only because of management, but also the guests. "We have such loyal customers, very caring," she said. "Before we closed, customers were coming in and taking care of us on tabs (overcompensating on the tips)."
Noack was one of just a handful of employees asked to stay on to help with takeout at The Block while the governor's mandate was in place. Because the same people were working each shift together they were able to get some social interaction in an otherwise stay-at-home environment. "You can bond at six feet," she pointed out.
At the time of this interview, they were just able to start taking reservations for inside dining. "I'm very grateful to get my bar stools back," she exclaimed.