Spencer Venancio wanted to cook for a less biased audience than his parents and grandparents and for more people than a six top. Not long after graduating from middle school, he also graduated from cooking other people's recipes to developing his own, so at 14 he researched the top restaurants in the Twin Cities and sent a letter to Gavin Kaysen at Spoon and Stable in the North Loop and asked if he could stage.
Kaysen invited Venancio and his father to meet and "right off the bat you could tell that he was driven to do this and looks at it in a way that is both contagious for others and open minded, so we accepted his stage with us," Kaysen said.  
Venancio was fortunate that Kaysen is a believer in staging. "It is the same way I got my foot in the door with Daniel Boulud (the French chef with the two-Michelin star restaurant, Daniel, in NYC)," Kaysen said. "I asked for a week-long stage, which has blossomed into years of working for him and he's mentoring me still to this day."
It was Venancio's heartfelt and professional email that got his foot in the door with Kaysen, but it was his drive and hard work that led Kaysen to introduce him to Grant Achatz at Alinea in Chicago, where Venancio also staged for a night. 
His stage adventures reads like a who's who in the Twin Cities. In addition to Kaysen, Venancio has staged for Jamie Malone at Grand Café and held a pop-up with the trio of talented chefs at Travail.  
"It was a good experience to work for them," he said about Travail, adding, and "if I'm being honest, it was very early in my—if you could call it one— career. I had initial ideas and they were able to guide me in a direction that made sense and was delicious."
His menu, he said, "had less of the playfulness they're known for, but it was fun, but no meat on strings, nothing getting plated in front of a box, on your hand."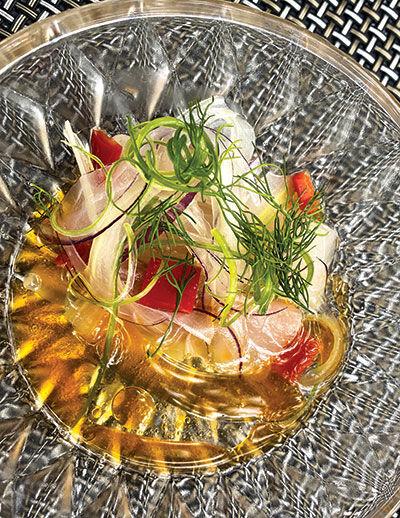 He staged at Grand Café, working his way up to running a station. "Having Spencer in the kitchen, you really don't notice his age. He takes it upon himself to learn, research and think critically about all things cuisine," Malone said. 
And he can hold his own. "Spencer is so much fun to work with!" Malone said. "Of course, we don't notice his age when it comes to the work part, but when it comes to ribbing, being the youngest, he takes his fair share. But he gives it back, too.  And, it's always a delight to work with someone who has such pure passion."
Now at the ripe old age of 15, Venancio's  latest pop-up is at Bardo in NE Minneapolis, where he takes over the kitchen on Tuesday nights for his five-course tasting menu. With the poise of a pro and the talent of someone twice his age, Venancio proudly carries out his dishes to the table, describing the dish and pouring sauces when applicable.
 Age can be both a huge benefit—he's received a lot of coverage in the local media—but it can also be a deterrent. He's too young to drive, can't cook with alcohol and has to work twice as hard to be taken seriously. He's always been comfortable in the company of adults, and was never interested in "normal kid activities." He admires his older sister and tried playing on sports teams, but when he listened to her talk about her soccer practice, he couldn't relate. His practices were neither fun, nor illuminating. 
His end game is to own a small 20-seat restaurant featuring Modern American cuisine—which means he's free to cook what he likes without the constraints of a label. But as a sophomore at Stillwater High School, the Woodbury native has a long road before he takes center stage in his own place.