With a goal of personalizing the negative effects of Minnesota's minimum wage increase on their businesses—and to advocate for a "uniquely Minnesotan alternative" that recognizes tips—more than 300 people from restaurants, cafés, bars and others in the hospitality industry converged in St. Paul to meet with state legislators last month. 
"The things we have the least control over are the things that affect our business the most: labor and food costs," said Ed Fong, who participated in the Minnesota Restaurant Association's Hospitality & Tourism Day at the Capitol February 9. Fong, who owns Bloomington Chinese restaurant, David Fong's, said lawmakers need to understand that simply absorbing these costs is no longer an option.
The Legislature approved a state minimum wage increase package last year, with the first bump last August to $8 an hour. This August it will rise to $9 an hour, then to $9.50 by 2016. The next move in 2018 indexes yearly wage increases with inflation. 
"We took a significant increase in menu items," said Fong, "and food costs have gone up to the point where we can't absorb them anymore. Full service is feeling it much more than fast casual. People truly enjoy full service but we have to make it affordable."
Fong, who has about 60 employees, said back-of-the-house workers have always been paid above minimum wage and his servers average more than $20 an hour when tips are factored in. Being forced to raise wages for all of his employees, regardless of what they're currently making, will make it difficult to still provide all those jobs, he said.
Protection of those jobs is the goal of the MRA's tipped employee tier proposal, said Dan McElroy, the association's vice president. This tier would cap the minimum wage at $8 for employees who earn at least $12 per hour including tips; those not reaching $12 an hour in the two-week pay period would make the full state minimum wage.
The proposal's inclusion last year failed by one vote in the DFL-controlled House. With the new 72-62 Republican House majority this year, McElroy is hopeful it will gain more traction. But he noted the importance of bipartisan support in overcoming some political obstacles, particularly "senators who are heavily influenced by organized labor and advocates for low income families who don't understand what we're trying to do."
Rep. Pat Garofalo (R-Farmington), chairman of the House Jobs Committee and chief author of the tipped tier bill in the House, agreed that while "the hospitality industry has a very strong case," bipartisan support is crucial for any legislative changes to happen this year. 
Garofalo introduced his bill, HF 1027, to the House February 18, along with five co-sponsors: Democrats Paul Rosenthal, Ben Lien and Kim Norton; and Republicans Rod Hamilton and Tim Sanders.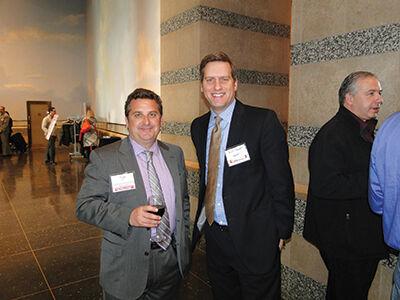 Garofalo said he supports the proposal because it's beneficial both to business owners and workers, and is "a matter of fairness and a matter of common sense."
"The unintended effects of our current law are we mandate a pay raise for the employees who sometimes are already the highest paid," said Garofalo, adding it's also important for restaurant and hospitality business owners to keep the issue in front of lawmakers through the session, which ends May 18.
That's a challenge, said Tony Boen, regional manager for Duluth-based Grandma's Restaurant Company, which depending on the season has between 400 and 600 employees across its nine casual dining concepts.
"It's getting them to keep us in mind when they're placing their vote," Boen said during Hospitality Day. "Getting them to see there are consequences to their votes."
As passed last year, Boen said the minimum wage bill will cost Grandma's two to three times its bottom line. In the meantime, the company is shopping for POS systems and exploring other technology that would reduce staff hours in the front of the house. 
To Fong, whose parents opened the restaurant in 1958, it comes down to being able to provide jobs. "This is not a get-rich scheme," he said. "We do it for the love of the business … but to be able to do that I need to continue to make money."