Tom Kavanaugh's family-run resort in the Brainerd area had more than 300 summer cancellations by early July, but they're also seeing an uptick in new reservations since mid-June, when the state started opening up for business again. "Our July isn't up to normal, but it's doing OK," he said.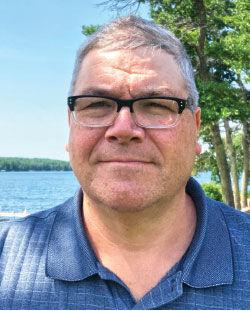 It's the larger resorts in the state that will have a much more difficult year, said Kavanaugh, owner of Kavanaugh's Sylvan Lake Resort and also the chair of the newly consolidated Hospitality Minnesota trade group. "We're feeling almost lucky our numbers will be down 20 percent, which is a pretty big hit."
Larger resorts relying on corporate events, weddings and family reunions to fill their rooms this summer will be hit the hardest, he says, while smaller, isolated resorts like his are seen as a more comforting option for people who want to vacation cautiously as news of the pandemic continues to dominate the airwaves. "Where we lost a lot of business was family groups coming from out of state," Kavanaugh said. Some of the family groups that canceled, he added, had been reservations "grandma and grandpa set up and paid the bill, (but then) weren't comfortable coming."
Minnesota resorts just across the Canadian border benefited from fishermen who couldn't cross over into Canada for their 4th of July fishing trip, one of the fishing guides told us. The parking lot at Gunflint Lodge & Outfitters, outside of Grand Marais, was filled with cars, many of which had license plates from other states. The resort hosted a number of young families and groups of friends, with a plethora of dogs. The fact that they don't charge for dogs was a welcome perk for people who didn't want to risk boarding their dog—or who consider the dog a family member.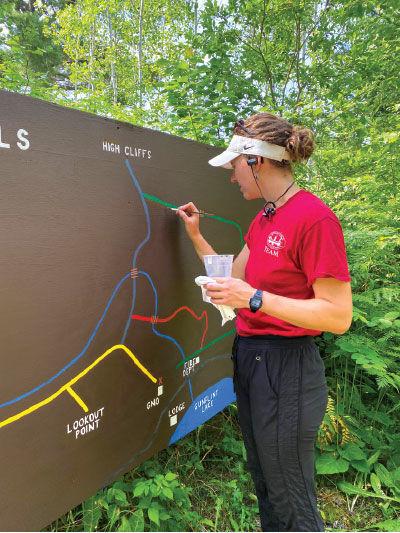 While the service staff wore masks, few if any of the guests did. Housekeeping services were before and after guests checked out, with the option to order more clean towels or supplies during your stay. 
"I've talked to quite a few operators prior to the active weekend (July 4th) and it's a good sign that Minnesotans are ready to travel and experience the great outdoors, said Ben Wogsland, director of government relations for Hospitality Minnesota. "Many (campgrounds) were full, and the rest of July looks good. What we're seeing is last-minute reservations, booking the same day."
As patios in the Twin Cities start to fill, it's not surprising that outdoor venues are doing well in rural areas. "Outdoors is one thing that you can do for mental and physical health," Wogsland said, "and it's a good way to (social) distance."
While the number of guests are down, the  costs of doing business has increased sharply, Kavanaugh said. 
They are "triple-cleaning" both guest rooms and public areas. "We have someone spray, strip the unit out wearing masks and gloves," he said. Then they mist furniture like beds and couches and let them dry. "We do a final check of light switches, and things that you would touch, with a fine mist."
They've had to order more linens because they are double sheeting the beds (a blanket between two sheets serve as the bedspread) and placing two pillowcases on each pillow. 
In addition to spraying down the playground, docks and boats after every use, they are leaving spray bottles of industrial-grade sanitizer in every room, so guests can also sanitize. 
To speed up the check-in process, they've eliminated handing out paper schedules and info, instead having it all updated on a bulletin board outside the office. "People like to see that you're doing those things," he said. "We had some great comments on that."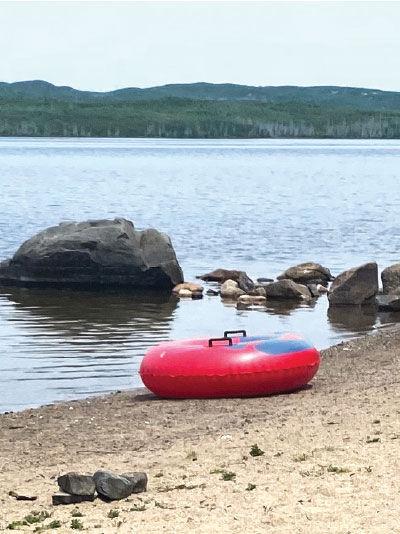 Kavanaugh is also fortunate that six members of his family work at the resort full time. He's always hired local high school and college students, so the resort isn't experiencing a shortage of temporary international workers on J-1 or H-2B visas who are typically employed for the summer by larger resorts. Those visas are no longer available through the end of 2020 by an executive order signed by the President in June.
Federal PPP money and SBA loans have helped with the added expenses of all the Personal Protection Equipment for workers, cleaning supplies and additional labor costs. To offset the higher expenses, Kavanaugh said they've deferred what maintenance they can, such as spending $1,500 in fertilizer and replacing the remaining older TVs in the rooms with flatscreen ones. "It's not things that guests will notice," he added. 
One headache they don't have is operating a restaurant on the property. Guest rooms have full kitchens. But then that means one more thing to triple clean—all those kitchen appliances and dishes.