Mark Mann Jr., Marketing Manager
Swanson Meats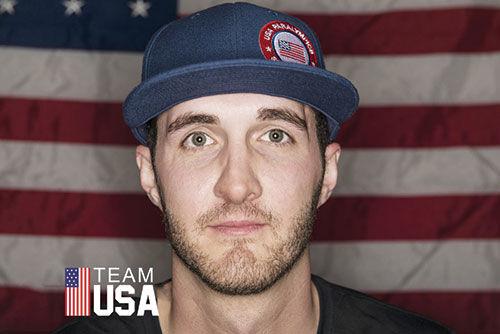 "Jr." as he's known at work, manages the marketing and is part of the third generation of Manns in Swanson's story. The company's long tradition of dedication to quality products and straight-forward customer service is firmly rooted with this kind of continuity. With more than 50 years in business and more than 75 employees and counting, Swanson has built a reputation of stability and independence from within Minneapolis headquarters.
The contrast to that tradition is the breadth of experience the management and staff bring to the company and its customers: from family farming, culinary arts training, operations management and food safety certification to teaching, nonprofit development and fundraising, as well as a variety of personal interests. In the office, the variety of team loyalties keeps things lively as well. 
A new interest in sports is emerging at Swanson Meats, though. Snowboarding. Adaptive style. In addition to Jr.'s talent with marketing and communications, he has always been a sports junkie. Basketball was his juice through high school and college. However, now he's getting his thrills on the hills, competing against top adaptive athletes.
In June 2013 as a 23-year-old newlywed, a boating accident forced Jr. to live with the challenge of life without both of his lower legs. It was apparent from my first introduction that he's someone who looks forward, not back. I never noticed his physical difference until it was mentioned later in our meeting. While listening to his story, it became clear he chose to continue living a full life. Sports and winning are continuous targets on his horizon that keep him focused.
After a relatively rapid initial recovery and adaptation to prosthetic life, he discovered biking gave him the athletic challenge he knew so well. In January 2016 he accepted an invitation to try snowboarding. Since he had boarded in the past, he figured it would be manageable. Manageable it was, and better yet, provided the adrenaline rush that hooked him. By March he competed in the U.S. Nationals Adaptive Snowboarding competitions. He did very well and got noticed in the adaptive sports world.
In the 15 months since, Jr. has risen in the world rankings, competing in The Netherlands, Canada and most recently Spain. He is now a member of the U.S. Paralympic Team and is in the running to be named to the 2018 U.S. Paralympic Team, competing in the PyeongChang 2018 Paralympic Winter Games in South Korea.
Jr. is quick to add that his wife of five years is his rock. They are a team unto themselves, in addition to all the friends and loved ones who've seen him through. Jr. has continually given back to other amputees, understanding the power of having an example of how regaining a new normal is doable. He's a board member of Wiggle Your Toes, a local organization reaching far beyond Minnesota to help amputees develop their support systems and discover their paths to independent and fulfilling living.
I hope you're all planning to join me for breakfast before Foodservice News' Spring Restaurant Business Summit at the Loring Social on Tuesday, May 9. There's a registration form inside this issue or you can go to our website, www.foodservicenews.net to sign up.
I promise it will be worth your time.