Steven Schussler, the developer of over-the-top concepts like Rainforest Cafe, T-Rex Café and Galaxy Drive-In, says he's known as the "light-bulb king" because he can spot a single burned out light bulb among the hundreds of lights layered in his concepts. "I'm trained to attack anything not working," he says. "It's that level of detail; I see it before the guests see it." But the reality is that the moniker is more likely in reference to the proverbial light bulb flashing over his head, 24-7.
There isn't much traditional reality in Schussler's multi-concept world. He doesn't just draft concepts on paper, he builds them in painstaking detail on his own dime (rounded up several digits). In a nondescript warehouse in Golden Valley, he stores an odd collection, from a motorcycle with a mini car as the hood ornament to Good Humor Trucks —they were unsuccessfully turned loose on the streets of Las Vegas to sell ice cream by cute girls, his wife, Sunhi Schussler, says—to a number of Amphicar 770 convertibles that are used in his Disney concept, The Boat House, to take guests on tours from the parking lot into the lake.
The menagerie of vehicles isn't just for show. "I drive one every day," he says. "I get inspired and envision what it can be used for."
It's ironic that one of his new concepts is designed around kinetic energy, because that's the best description of Schussler. He's all synchronized moving parts, little boy enthusiasm and dogged determination. He's not afraid to go over his budget significantly, even when a partner told him early on to watch the movie Bugsy to see what happens to people who can't stay within their budget (they end up dead in the trunk of a car).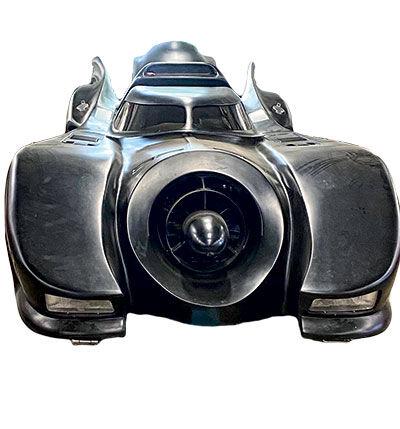 Schussler loves that story because, one, he's not in the trunk, and two, the creativity that leads to additional expenses is to enhance the guests' experience. And sooner or later the money men realize it's worth it. The Rainforest Café was $1 million over budget, but instead of making the expected $4 million in sales the first year, it made $13.5 million. "How quickly my partner forgot I was over budget," he crows.
He also likes that story because it explains why he's spending so much of his own money on his latest project: Super Heroes With Super Kids. Over the years, he and Sunhi have written checks for charities they believe in, he says, and now they're gearing up to give back what they're good at: "shock and awe."
Which is why I was at that nondescript garage to see the $500,000 Batmobile that was still getting some kinks worked out. The giant sleek black car is being outfitted to give a terminally ill kid the ride of his or her life. Flames shoot out the tailpipe, rapid-fire "guns" rise from each front fender and there's even a computer to operate as the child sits in the passenger seat dressed as Batman's sidekick, Robin. 
But here's how the adventure starts. The child, selected by the staff at the University of Minnesota's children's hospital, and his or her family, a couple of friends, the nurse and doctor all come to Schussler's creative studio for lunch. They tour his latest concept-in-the-works, Gizmos, Gadgets and Gears, where the work of 22 kinetic artists is part of the décor or for sale (15 to 20 percent of sales at Schussler's concepts are from retail). After a lunch, most likely catered from The Galaxy Drive-In across the street, Schussler takes the child by the hand and walks over to a bust of Shakespeare, flips it open, pushes a button and a secret panel opens to reveal a superhero theme park, a room decked out with giant statues of superheroes, themed arcade games and smoke billowing around the larger-than-life Batmobile. Batman, yes, Batman, shows the child the dressing room where  Robin costumes in a range of sizes hang. After the parents help the child dress, he and Batman jump in the car, another wall mysteriously opens and a St. Louis Park Police Car, siren screaming, escorts the dynamic duo on a short ride that ends up across the street sharing a sundae at the Galaxy Drive-In.
Schussler chose this particular charity, he says, because "I can't handle a kid dying." Sunhi describes it as similar to Make-a-Wish, where a terminally ill child is granted one wish, such as going to Disney World. Super Heroes, however, is like a personal Disney World—a once-in-a-lifetime experience, where the child is the hero, something the parents and medical staff will also cherish. The child is then presented with an impressive bag of Superhero swag.
The Schusslers are currently funding it themselves, but at some point, since it's a 501(c)3 charity, fundraising will begin. 
At presstime, they were about two months out from their first test run. They plan to do one a month, and then weekly. Holy, good deeds, Batman. 
Steve and Sunhi Schussler are spending their savings to do what they do best—create a layered superhero experience for children with serious illnesses. They're pictured here at the bar at their kinetic energy concept.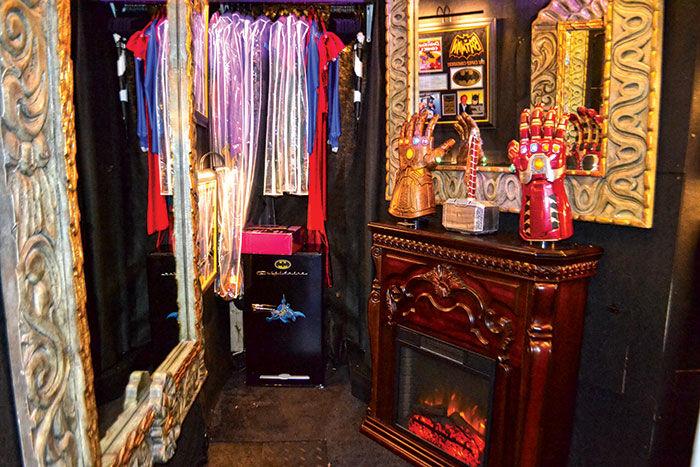 The dressing room, decked out with multiple costumes and a faux fireplace.