First live music was silenced, then live-streamed when it was thought COVID would be over quickly. It wasn't, so next a limited number of patrons could witness live music on hot evenings from their cars parked in front of a makeshift stage. Then they could stay in their cars—where they couldn't drink alcoholic beverages—or move outdoors to sit in a designated area that served drinks. And then they could sit on a patio six feet from stardom. And then there was a tent and then a bigger tent. And then the local city's rules for alcohol changed an hour before the show started …
Surviving in today's business climate means learning to do the quickstep to a tune that can change daily, sometimes hourly. For small restaurants, having a large patio is akin to being put on life support. And for live music venues, having some acreage around your building overlooking a lake and an extensive parking lot is a game changer. 
Crooners' location in Fridley may have made it an outlier just a few months ago, but today it's one of the few live-music venues able to treat audiences to watching professional musicians perform live.
To say Crooners owner Mary Tjosvold has had to be flexible the last few months  is an understatement. Being able to be nimble, she points out, is the difference between staying open and closing your doors. "I didn't realize how expensive it was to shut down," she says, in part because of the amount of food they had on hand. Nor did she know at the time, "the energy it takes to reopen."
"Our success," she says, "has been thinking outside the box."
A lot has been by trial and error. For instance, while the musicians wear masks as they walk to the stage, one singer tried to belt out a tune through a mask. It didn't work. White tablecloths may have been elegant on the tables inside, but didn't fare as well on the  patio, so Tjosvold bought vinyl ones that could be sanitized rather than laundered. The supper club menu was paired down, eliminating classics like the steak, walleye and salmon that weren't ideal for takeout. "To go to takeout food was a big mental leap," she says. "I'm not willing to bring walleye out to you in a (takeout) box."
So the supper club fare was put on a back burner in favor of hand-held items like fried calamari and a Rueben that travel well from kitchen to parking lot.
"Serving drinks in plastic glasses breaks my heart. I think glass is classier," but the first time someone breaks a glass, she says, her voice trailing off with the thought of the chaos that would pursue when glass hits the hard surface of the parking lot.
Meals are delivered to guests in parked cars or sitting under the tent, in plastic grocery bags, tied so that guests can grab the bag out of the plastic tray thus eliminating another round of people touching their meals. 
While most restaurant owners were struggling to get up to speed on COVID-protocols, Tjosvold already had a handle on creating a safe environment for employees and guests thanks to her day job—running a variety of assisted living, hospice, senior housing and home-health-care businesses in Minnesota and Maryland. She also designs and oversees the building of "totally accessible housing in several states."
Don't quit your night job
How Tjosvold became the owner of a suburban jazz venue is a love story. "I met someone who was a classical pianist in England," she says. Larry Dunsmore's jazz band played for the Queen, and then he met Frank Sinatra and decided to become a "crooner" and leave jazz. "When I met him he was playing the grand piano in England and Australia," she says.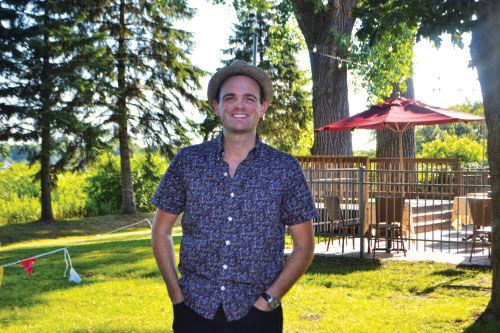 They were looking for a way to be together in Minnesota and one day when they were driving around, they saw an old building overlooking a lake that was in foreclosure. The banker just happened to be cleaning out the kitchen when they drove up. A few hours later the couple did a handshake deal and the old Shorewood restaurant was theirs. 
Dunsmore—the 50-100 seat jazz room is named for him—was a constant act at Crooners and taught Tjosvold the music business. The first thing he embedded in her was that Crooners was a place where people came to listen to music, not to chit-chat or dance. It's all about respect for the musicians, making them the star of the show, not background noise to chatter or loud voices at the bar.
To set the stage for this scenario, Tjosvold introduces every act, requesting people turn off their cell phones, relax and listen to the music. "I'm getting their attention so they're already focused when the show starts," she explains.
A year after they opened the club, Dunsmore died, leaving, among other losses, a steep learning curve for Tjosvold. But he also left her a young crooner, Andrew Walesch, who was filling in for him when he was sick and who knew the local music scene.
Walesch now serves as music director, booking the acts and overseeing the shows. He also still performs, and not surprisingly his recent show was based on Frank Sinatra's hits. 
Numerous changes have been made to the property in order to attract world-class talent and to make the experience better for guests. "The concept of a supper club lounge didn't click (with patrons)," he says "So we decided to have two music rooms." Originally a large bar dominated the center of the main performance area. It was removed in order to make the main stage visible for all the guests in the room.
The recent break in action has allowed him to reorganize the back bar, adding new wine labels, local beers and a line of ice cream drinks. Since the bar was at the back of the largest dining room and close to the Dunsmore Jazz Room, they hadn't figured out a way to run the blender without interrupting the music. Now, since they're reinventing everything on the fly, they've found they can run the blenders in the kitchen and add the booze in the  bar. 
Finding talent to put on stage hasn't been as difficult as one would think. Walesch, with an eye to consistent, good music, has been cultivating top talent in the area for years. "A lot of national acts aren't good with travel (right now), but a lot live here and those here are more than happy to play," he says. 
It helps that they have an 8-foot Steinway D concert grand piano, a rare treat to play, since it's one of the top 5 percent of Steinways.  "Musicians love to play it," he says. Add that to the intimacy of the room and you have great jazz.
Tjosvold, meanwhile, has learned being nimble, quick and jumping through hoops just may be the new normal—at both her day and night jobs.