If you're a fan of Meatloaf—the singer, not the entrée—you know "two out of three ain't bad," unless, of course, it's losing two of your three jobs during a pandemic.
Elizabeth Hawkinson, 29, had three workplace gems strung together: acting in local musical theater, serving at Grand Café and teaching voice and piano lessons at Sarah Jane's Music School in Northeast Minneapolis. All three jobs had flexibility written into their DNA, which enabled her to not only make a living, but to indulge in her three passions. "They're all service—service of the playwright, a guest or a student," she says.
The transition from in-person lessons to Zoom lessons was seamless at Sarah Jane's, but when both restaurants and theaters went dark, Hawkinson was out of work for the foreseeable future. 
The staff at Grand received the news from Owner/Chef Jamie Malone a couple of days before the bulk of restaurants in the city had to close. "That was helpful in applying for unemployment, we didn't have to wait," she says. "Being a freelance artist, you're really well prepared, you know how to adjust. You're used to a very dynamic economy. This is not new."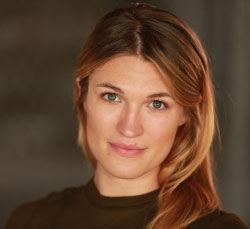 Grand's was the only income Hawkinson applied for unemployment to replace. Each week she logs into the state's website to adjust her hours. "There's so many people on the system (now), and I think they're trying to take you at your word. That's what's tricky about unemployment, it's designed for when you lose a salaried job and not for people in and out of the economy."
Unemployment through July was generous, thanks to the additional dollars from the Fed, but Hawkinson isn't concerned about when the extra cushion goes away.  She practices a "lean lifestyle." "Living below my means is a great way to keep stress at bay," she contends. 
Her last play, A Gentleman's Guide to Love and Murder, had just closed in mid-February, so she was not left in the unfathomable situation of memorized lines with no one to hear. Some theaters, like the Jungle Theater in Lyn-Lake area of Minneapolis, had to close in the middle of a production, leaving the set on stage and the actors unsure of when or if the play would ever go on.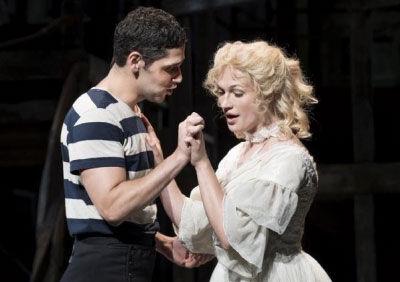 To fill her time while the economy was closed, Hawkinson took advantage of living near the Stone Arch Bridge, where she can take walks or run by the river. "I'm staying home as much as I can, because I can," she says. "I live with several other people, so I want to be as modest with our circles as possible." That changed, however, with the killing of George Floyd. " I've been out at various protests, practicing being as safe as possible," she says. 
Hawkinson is getting ready to return to her serving job, and says, as for acting, the forced break "allows the theater world to recalibrate and genuinely find the needs of modern-day Americans."
"I think really good theater is an agent of change," she says. "I think it can benefit from new work and new stories that our culture will be ready to hear and happy to take in it."
The same may hold true for restaurants, which are having a seminal moment for some needed change as well.