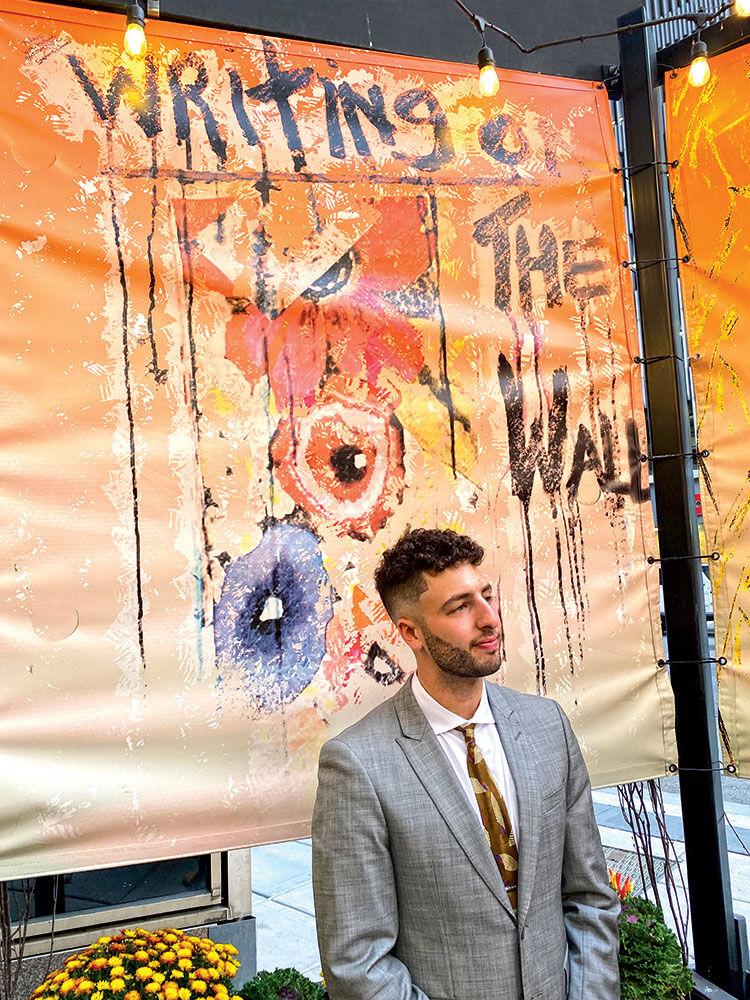 Being the only son of the well-known Chef David Fhima, who has made his mark several times on both the downtown Minneapolis and St. Paul restaurant scene—not to mention a short stint with "kissing booths" at Louis XIII in Edina's Southdale Mall, could create a rebel who would have cause.
But not Elijah Fhima, 26, who was born into the restaurant business. "Literally," he says. "Mpls. Café opened the day I was born." His father, he says, was knee deep in the weeds when the call came that he was needed at the hospital. "He tells me, 'you've been a pain in my life ever since you were born,'" Fhima says, grinning as he respectfully cleans up the quote a bit for us.
His dad can be tough. "He'll yell at you and then he'll buy you dinner at the end of the shift," Fhima says referring to his dad and the cooks in the kitchen. For his part, Fhima's domain is not working the line, but the front of the house. He serves as both maître d' and director of operations at Fhima's MPLS, where even a face covering can't mask the Fhima charm. Whether there's one guest or the new socially distanced 50 percent diners, Fhima shows up in a tailored suit—he appears to be partial to either plaid pants or jackets, but not at the same time—and armed with preshift notes to share with staff.
Being the son of the well-known David Fhima has had some ups and down. His parents were divorced when he was 5, and he remembers the pain of his dad going through a bankruptcy. "My life never changed with that," he says of the very public bankruptcy, "He protected all of us (he has three sisters)." It also meant spending much of his childhood hanging out in the bar area of his father's various restaurants while meeting important people.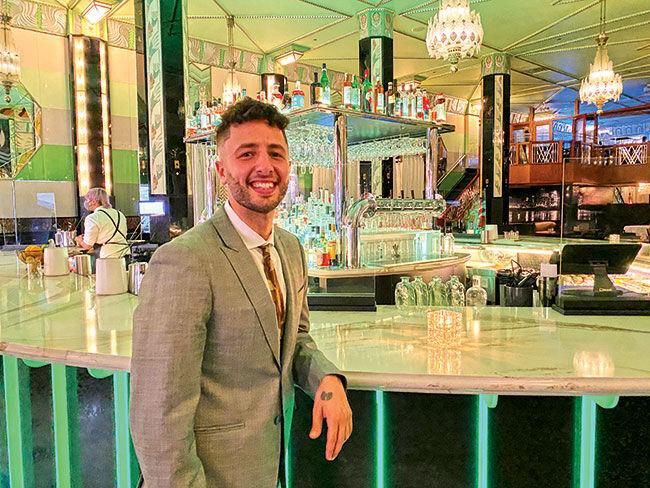 "Eli was raised under my kitchen skirt from the time he was born," says David Fhima, "and as a product of a divorce, it meant that I had custody half of the time, and given how precious those times were I never wanted to have a babysitter so that meant he was at the restaurant when he was not in school, doing homework, hanging out and mostly eating."
On Vikings' game days, Fhima admits sheepishly that he would show up as a kid with "eye black" smeared under his eyes—most likely to cut down on the glare from the chandeliers. He remembers one such photo opp with Vikings' QB Daunte Culpepper and a big bowl of rigatoni. All these years later, Fhima's delivering personalized meals that take into account the athlete's personal nutritional needs that David Fhima has prepared for Viking players and other athletes who are clients.
Fhima has no plans to follow in his father's footsteps to become a chef, but at times he's impersonated one. Several years ago he was in Italy and met a girl who, upon learning that his father was a top chef, demanded he cook a meal for her. On the way to the market in Florence, Fhima ducked into a restroom to call his dad for advice. The elder Fhima dictated a shopping list that included chicken, white wine, butter, cream and pasta and told him to call him back once he had the ingredients in hand. With "French techniques, high heat and butter, cream salt and wine, you're good," Fhima says, nonchalantly, as if even those of us without the cooking gene could pull it off. We didn't press for details, but we're assuming the evening was a success.
While the culinary side comes from his father, his foray into the local music scene came from his mother, Leslie Fhima, who dated Prince as a 20-year-old, and whose cousin is Bobby Z, a music producer and a former Prince drummer. Fhima was part of hip-hop trio called Kids Like Us, which released an album called, When Things Get Weird, in May 2014. (I found a couple of his music video on YouTube and when I told Fhima about them, he was surprised, a bit chagrined and maybe a little pleased, replying, "They're still out there?")
His taste of the music business turned out not to his calling, and he switched gears and headed to Israel where he has a large extended family. "In 2017, dad got the contract with the Timberwolves and he called and said, 'come home,'" Fhima says. Coming home meant taking a load off his dad's back. "I want my dad to take a break, he works so hard," he says.
The return of the son, however, wasn't without some drama. "He's afraid I'll turn this into a nightclub," Fhima says, grinning as he sweeps his arm around the historical Forum space that once housed Goodfellows and thousands of Minnesotans' memories. No worries, there, although on the nights we recently dined there we spotted more dressed-to-the-nines young couples than elsewhere.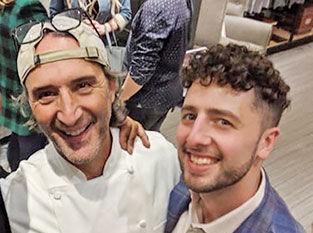 "The hardest thing for me to do is to watch him make mistakes and not say anything," David Fhima says. "The hardest thing for him is to make mistakes and know that I know—that creates tensions, but our bond, our family love and our foundation is so solid that no matter what happens we have that safe place we all go to to feel loved and appreciated and that is our family...nothing can shake that."
But having two strong-willed men under one elevated ceiling can have its moments. "Arguing with your son who thinks he knows it all brings me back to my relationship with my dad, and it is because of it that I always tell him my job is to raise you, not that you tell me how great I am, but for anyone you come in contact with to tell me how great you are," David Fhima says, adding with a smiley face emoji to his email, "of course, I am hoping for some of that from him..."
"My dad is my hero," Fhima tells us.
Like the rest of downtown restaurants, Fhima's is patching together as many profit centers as possible now that Target Center isn't welcoming spectators, plus bakery sales to Life Time Fitness are down. They've consolidated their hours to 5 to 10 p.m. Thursday through Saturday. They also have a low-margin, but steady cash-flow contract with Second Harvest Heartland to make 4,000 to 5,000 meals a week. "We're a food company that's diversified," Fhima explains. In addition to the restaurant, they also run a bakery out of the Fhima's Mpls location, seven days a week, and do consulting.
And while a patio has saved many a business downtown, they've had a couple of incidents, such as a homeless man attempting to drink wine from a patron's table and a group of 40 kids fighting and filming it near the restaurant.
"I used to walk to Shinders to grab baseball cards as an 8 year old, now I don't feel safe walking home as a 26 year old," he says. "I want my city back."
Both Fhimas are part of the Downtown Restaurant Group that has been reaching out to the city officials to find a way to make the city safe for patrons, but also for employees, many of whom are worried about getting to and from work safely.
"In times of scarcity, act with abundance," Fhima says. "The city needs us, we need them."
And while he is happy where he's been planted, he has a pipe dream of returning someday to Israel to eat and tell stories with his 80 cousins there, and perhaps live on a kibbutz with a little restaurant with just 20 eats.
"The future is so bright for him in our industry," his father says. "He has what very few have, an undying passion for people, an eye for the details. But what makes me so proud is he has a conscience that sometimes this industry kills in you...it is his compass when things are bad, and now more than ever I watch him put it to use in these tough times. I am beaming with pride."
And that bond beams right back at him.