Dining with Adam Southam is being privy to the dark side of a menu. "This one's not too bad," he says about the menu on a recent visit to a healthy Minneapolis restaurant. He liked the "local lettuces." "Iceberg is a waste," he says. "God's silly joke." Tofu is a good choice for women, but men should eat it in moderation, he adds. And while he understands French fries are an American culinary staple, air frying is preferential to deep frying (in his world, not the general public's—yet).
You also have to be patient while he asks the server numerous pointed questions about preparation, ingredients, etc. His sense of humor is called into play here so that the servers are charmed rather than annoyed. But they're probably still annoyed, he admits.
And then he eats small portions, which is a cue for you to do likewise or risk looking, not like a loser, but a gainer.
Southam, founder of MyFormulary, a website filled with healthy products, recipes and education, is on a mission to add "functional foods" and cooking practices to the restaurants of the world. As more people choose to dine out multiple times a week, he believes the restaurant industry has a unique opportunity to make their customers healthier—while also serving good-tasting food and staying profitable.
Dead diners don't pay, he quips—nor are they repeat customers.
I get it, he says about a health-centric menu including items like bacon and French fries. Restaurants are in the business to make money, and diners may say they want to eat healthy, but a majority also want their guilty pleasures. 
What to leave off a menu? "Corn, potatoes, cooked carrots, white bread, added sugar, fake sweeteners," he says, ticking them off on his fingers. "Potatoes, rice and corn are not what they used to be, and organic won't help that," he says, talking about genetic engineering of food crops. 
His favorite substitute for potatoes is purple yams—orange in a pinch.
The end goal, according to Southam, is for restaurants to serve meals that will not only nourish you and taste good, but may help lower your cholesterol or lessen inflammation or other ailments. It's even more important now that meals eaten at home tend to be delivered from restaurants.
Chefs are already experiencing diners asking for changes thanks to various diets and food sensitivities. "If I'm a restaurateur I want you to come back, and the way to do it is to give you what you want," he says. "Training should go deep into prep."
Southam isn't fighting this battle alone. He's part of a food-as-medicine movement that contends that since what we eat is a risk factor for certain diseases, the right foods should also heal us. MyFormulary uses published clinical studies to determine which foods and ingredients are effective in the prevention or treatment of medical conditions or fitness goals.
Growing up in Toronto, Southam was in an elite training program for equine jumpers. And even at that level, the coaches weren't paying attention to their athletes' diet. "Breakfast was a Diet Coke and a Kit Kat," he says. "Food wasn't part of the conversation."
An exercise fanatic, Southam's athletic pursuits included downhill skiing, as well as competitive equine jumping. He leads several health and wellness initiatives. When a routine health exam more than a decade ago revealed he had serious hidden health issues, he changed his lifestyle and mission. His cardiologist, Dr. Elizabeth Klodas, prescribed a book to read, as opposed to prescribing drugs, and his evangelism was born.  
At a recent panel for Club E at the Minneapolis Club, Southam conferred with Chef Hawkins to take a typical dish he would serve and step it up a notch with functional foods. For instance, a raw slaw was sprinkled with a Step One food product that reduces cholesterol, the cod was oven baked and potatoes were replaced with a puree of sweet potatoes. The food was delicious and food cost was comparable to the undoctored meal.
Southam is part of a group bringing the Ag Innovation Showcase to Minneapolis in early September. Last year's event was in St. Louis, but a one-day event, The Nexus of Food and Health, hosted in Minneapolis by My MyFormulary, The Larta Institute and the Agricultural Research Utilization, successfully introduced the idea of holding the showcase here. More on that in the August issue.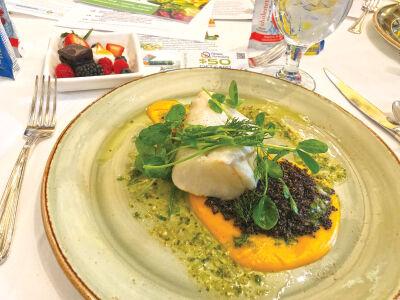 Functional food can look, taste and cost the same as just plain old healthy food. Here are two examples, including the dish, right, from the Minneapolis Club.