I was one of the masses of city dwellers who headed up North for the 4th of July weekend. People who don't know me well may be surprised to learn that I am not a rugged individualist. I have never caught a fish and have only swum in a lake around three times in my long life. To me, camping out means your king-size bed only has three pillows for two people.  
But my husband was anxious to show off the resort he and his sons had been going to for 20 years. He hadn't been back for around five years, so he wanted to do everything, just like he and the boys used to do: hiking, canoeing, kayaking, fishing, boating, swimming and snorkeling in lakes with slippery rocks covered in moss and not a tropical fish in sight.
If nothing else, I am a good sport, with the emphasis on the agreeable part, not the athletic. When we made our plans, the highlight for me was the prospect of stopping at Betty's Pies on the way up. And Betty's whole apple pie and slice of coconut cream didn't disappoint, although a slice of coconut cream pie from Turtle Bread the week before gave it a run for its sugar rush.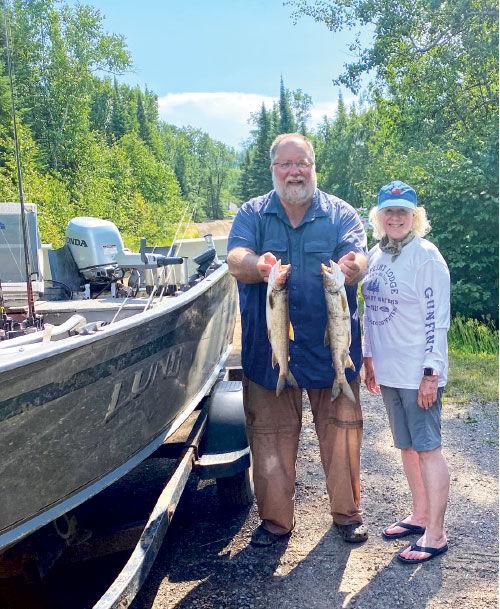 One thing I didn't realize was that the temperature at Grand Marais is not the same as up on the Gunflint Trail. The forecast for the resort town was in the low 70s for that weekend, so I packed accordingly. However, when we got to our destination, the temperatures were in the 90s. My flannel shirts and sweaters did the job I'd packed them for—keeping me toasty warm. 
The lodge was under new management and not everything was as my husband remembered. There were a lot more families and young children this time around. He remembered the crowd as being more outdoorsy—people who could carry their canoes on their shoulders from lake to lake, not a 3-year-old who needed an entire box of Band-Aids on her leg for one little scrape.
While he was hoping to see a moose, I was focused on another form of wildlife: The crazy dogs that took over the lagoon during dinner to swim while their owners chatted on the other end of the leash. I had two favorites, the bouncing one who wore a doggy life vest with a shark fin sticking up and the one who made dramatic leaps off the pier to catch his amphibious bumper dog toy. 
My husband, who is not a dog person, was a bit appalled that this was my favorite part of the trip. I fear that next year, he'll book me into a humane society tour while he invites the boys back to the resort. 
Where I did shine, however, was at fishing. I know that in reality it took a village to catch two fish, because our fishing guide, Jon, drove the boat, baited the hook, cast the lines and then handed me the rod to hold. My contribution was placing my thumb on the control to let out the line, and even that took instructions twice. When I felt something tug on my line, I dutifully handed my fishing rod to Jon, who shook his head and told me I had to do it. 
I had the same pride when the fish landed in the net as I did birthing babies. "Oh, my gosh, it's huge!" I crowed. Jon was kind, but even I knew that when he said, "Sure, it's about two pounds," I wasn't going to land on the cover of Outdoor Life any time soon. 
I did, however, catch a second fish almost immediately, but then it started to pour and we had to turn around and head to shore. Jon gutted and cleaned the fish and my husband cooked them when we got home. I think I only mentioned three or four times how well they were caught. 
I wish everyone in the hospitality industry could get the break I did. Being out in nature in fresh air that doesn't have to be recirculated is soul food. 
As we head into August and yet another month of uncertainty, we all need some kindness and support of loved ones. As James Beard winner Ann Kim said in a webinar when asked what diners could do to help restaurateurs, she replied, "show compassion."
We all need less judgment—and more dogs—in our lives. Stay safe.