Ghost kitchens do for restaurants what off-Broadway does for all the Hamiltons and Phantom of the Operas of the world— it allows them to try out a new concept before committing to a 500-seat theater—or in the case of a restaurant, a brick-and-mortar location.
It took just two months in an Edina ghost kitchen for Fly Chix's hand-breaded, made-from-scratch sandwiches to start flying out the door, and thus making it a candidate for a branded location.
"In the beginning it's tough to get people to click on your name," Essi Tadrus, founder and executive chef, said about being one of the offerings on third-party delivery platforms' websites. "Once someone tries it, they tell someone, who tells someone else."
Finding an audience means promoting your brand on social media and relying on customers' reviews, which moves a brand up the delivery provider's web page to a more prominent position. Reviews have been good, including making the Star Tribune's list of top places to go for a chicken sandwich. The ghost kitchen location, which uses Uber Eats and Doordash, is seeing the same people ordering the same thing day after day, he said.
"A ghost kitchen is awesome," he enthused, describing it as a small space shared with several other brands. "Guests order online and the tablets just keep going off, ticket after ticket after ticket," he said. "That gave us an idea of what's working."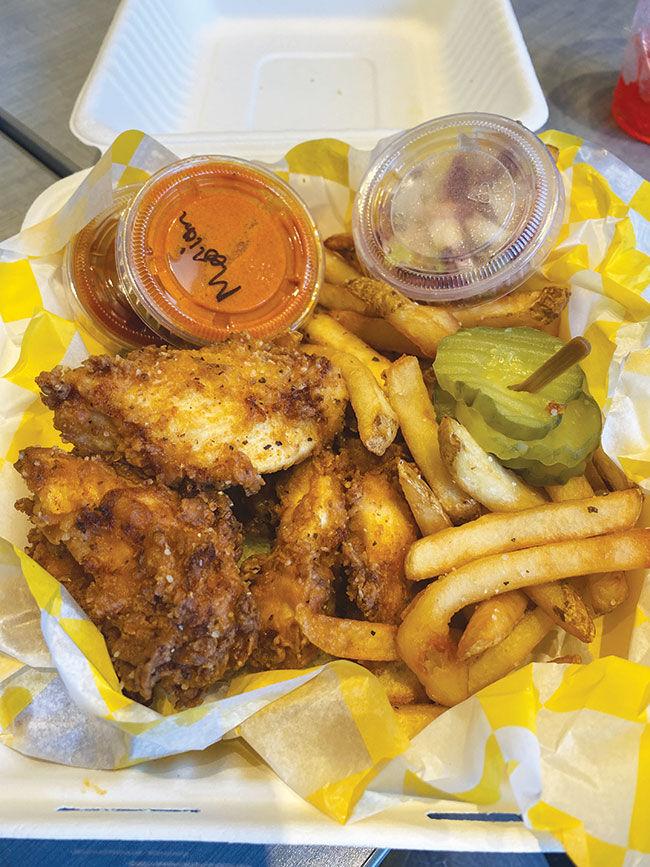 Tadrus lives in Florida, but the reason his concept is in both a ghost kitchen in Edina and a newly opened storefront in Stadium Village is because of an introduction by his franchise partner Fransmart to Aaron Switz of Zenith Holdings. Switz is also the co-founder & CEO of Agra Culture Kitchen, Sotarol, Yogurt Lab, Yumi's Sushi and La Grolla, in addition to Ghost Kitchen Holdings.
"We clicked instantly," he said. "Aaron's got a young, fun personality," in addition to being an astute businessman.
The two put together a concept that's fast-casual with a twist. The food is fresh, including the sauces that accompany the various fried chicken offerings. "The sauces are from scratch, we don't buy a base," he said. "We're cutting fresh chives and dill and the chicken is lightly breaded, we don't double bread it." The sauces are unique, he said, describing them as "simple with dynamite flavors." "I don't let my flavors compete with each other," he added.
The drink menu also has a twist. Grape- and Hawaiian Punch-flavored Kool-Aid are decent sellers. "I grew up on the southside of New York City on Kool-Aid," he said. "I put it on the menu as a super-super comfort food for these uncomfortable times."
While Tadrus and Switz are the founders of the concept, Fransmart is franchising the concept.
"I Love Fly Chix because of the food and the unit economics," said Fransmart CEO Dan Rowe. They are focusing on 1,000-square-foot spaces and under $250,000 opening costs with over $1 million AUV (average unit volume) for 4:1 sales to investment ratios."
The concept also fit the current climate where there is "a huge supply/demand shift back to growing operators for prime locations, low-cost conversions … and lots of customers with fewer options," Rowe said.