It might make for a shorter story if we just recounted all the things Erik Forsberg hasn't done in his short 47 years, but it wouldn't be nearly as interesting.
Known for the meat-centric Erik the Red across the street from US Bank Stadium, Devil's Advocate across the street from Orchestra Hall and Dan Kelly's Pub in downtown Minneapolis, Forsberg has been a vocal—but not devilish—advocate for downtown Minneapolis businesses and restaurants as the pandemic has created a ghost city.
We reconnected when his Downtown Business Council aligned with a similar group that attorney Dennis Monroe started with Foodservice News to find solutions to help downtown restaurants that were dying on the vine due to Covid-closures, stay-at-home workers and social unrest. And that's how I came to be seated at his kitchen counter awaiting a home-cooked meal in one of the Pillsbury families' historic summer houses in Minnetrista.
After a 25-year-run living in Loring Park, Forsberg reluctantly joined the migration to the suburbs. But since nothing he does is conventional, he didn't move to a rambler with an attached garage, but rather to an 8,000 square-foot mansion with seven bedrooms and horses for close neighbors. He bought the house fully furnished from a bygone era, and although he and his girlfriend Hannah Johnson live there with their two rescue dogs and giant cat, they retreat to their newly purchased RV when the house or grounds are rented out for an event or as an Airbnb.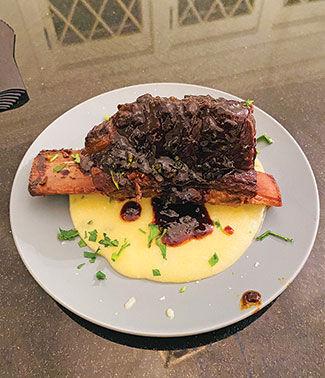 Johnson, an outdoors enthusiast, convinced Forsberg to get out of town during lockdown in a small apartment with two dogs to go camping. "I told her, I'm a 47-year-old and I'm not sleeping on the ground," he says, about Johnson's lack of enthusiasm for his subsequent RV idea. After scouring the internet, he found the perfect vehicle that even Johnson had to approve of, and the two headed for the Black Hills and the desert.
An extended vacation in a giant moving "bubble" was good for the soul amid Covid and when they returned, a friend informed him that the Pillsbury house was on the market. And in the midst of a pandemic, he leaped.
When we visited, they were still sorting through how to make the house a working home. During a surprisingly busy fall, they learned a few things about renting out a home, such as the need for a "no-glitter" clause in the contract. He was able to repurpose the outdoor tents from Erik the Red's events for outdoor weddings.
An outdoors event space fits nicely into Forsberg's eclectic book of business, which includes a hemp farm, a meat company (Naked Beef), producing specialized meals as part of a chain of fitness clubs' healthy-living packages, becoming a Broadway Pizza franchisee and, of course, his restaurants.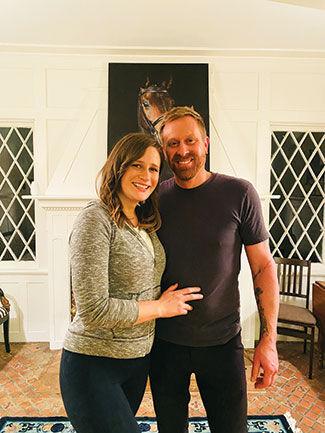 The timing on the hemp farm wasn't the best, he admits. The government deregulated hemp about the time they planted 20,000 plants. When the market to sell their yield as a liquid was flooded, they switched to topicals. A silver lining is they also have two acres of organic hemp, "which is worth lots more," he says. When asked if it's a difficult crop to grow, he replies, "It's called 'weed' for a reason."
The house sits proudly at the end of a long dirt driveway, with just a few neighbors nearby. Like any owner of a new mansion, Forsberg is still discovering things on all three floors. A former neighbor stopped by and told him that the house was once owned by Walter Brooks, the creator of the popular 1960s TV show, about a talking horse, Mister Ed. "And check this out," he says, pointing to a divided door that leads into the kitchen from a back porch area. And since we watched every episode of Mister Ed until it went off the air, the door did look to be the very one the horse stuck his head through to talk to Wilber. And if it isn't, Forsberg shrugs, it still makes a good story.
The Entrepreneur Life
Forsberg is the quintessential entrepreneur, someone who when presented with an opportunity grabs it, while continuing to keep all the other plates spinning in the air. His energetic demeanor is a bit a of a dichotomy, a bohemian sleeve of myth-inspired tattoos and the boyish good grooming of the Ivy League set.
He earned a degree in entrepreneurship from the University of St. Thomas, although his father, a patent attorney, wanted him to become a doctor. His father pushed him, he says, insisting he go to college, however with the caveat that "college teaches you to work for someone else." If he wanted a role model in multi-tasking, he got one in his father, who worked full time in the patent office, while going to night school and playing semi-pro hockey.
Forsberg grew up in Washington, D.C., but when his mother was offered a job in Grand Rapids as a teacher for the hearing impaired, the family moved to Minnesota. "My dad was a pioneer in saying 'I can live anywhere and work,'" Forsberg says.
His original game plan was to work with a friend in intellectual property. "My dad tutored me to be a patent 'helper,'" he says, which meant that when a young inventor came to his dad looking for a patent, he or she most likely needed someone to help with marketing. "I'm familiar enough to cherry-pick good ideas and bring them to market for them," Forsberg explains his thinking at the time was.
During this period, he got married and then divorced and moved to Toronto where he helped start a clothing company as the production manager. The problem, he says, was that his partners gave him too much responsibility. The clothes were manufactured in Canada, where they could take advantage of the favorable exchange rate. When the company went south, he bought the inventory and literally went south, back to Minnesota. The market was changing, he says, and he had no qualms about getting out of the clothing business.
He went back to bartending and looking at investing in restaurants.
"Erik is very likable and has lots of energy," says Pete Mihajlov, cofounder of Parasole Restaurants, who has gotten to know Forsberg through their tenure on the board of Hospitality Minnesota and through Forsberg's friendship with his twin sons. "I admire his creative spirit. His secret is taking existing restaurants that have come to the end of their time, and reconceptualizing them—and attaching them to a watering hole."
Erik the Red had what looked like the perfect location, across the street from the Vikings' stadium. But even though it was hopping on game day, it couldn't gain enough traction the rest of the time. He planned to relocate it, but the new spot was damaged during the riots surrounding the death of George Floyd. Devil's Advocate was damaged during the second set of riots and is currently boarded up, as is the entire block, including Caribou and Brit's Pub, and WCCO studios across the street.
Having downtown Minneapolis restaurants in today's climate is even more challenging than trying to operate in the suburbs. "If it doesn't make you money, it should make you famous," Forsberg quipped on a recent call with McKinsey, which is offering ideas in exchange for input from top local restaurant owners. Add that to another one of his sayings: "Downtown makes you famous, the suburbs make you money." "Even Danny Meyers has Shake Shack," he said about the legendary NYC restaurateur known for his upscale dining establishments.
All of this disjointed history was delivered with good cheer as he put together a feast with the help of his sous chef for the evening, Johnson. There was a charcuterie board that provided large bites of cheese and salami that when torn into smaller pieces made the perfect treat to toss to the dogs, both of whom were accomplished at catching food on the fly. Next came an arugula salad, a substantial crab cake and giant short ribs on the bone atop polenta. And then a tour of the house.
As we were talking about great dining experiences, Forsberg says that hands down the best experience he's ever had was at a Chick-fil-A. He was greeted warmly when he entered and the counterperson, he says, walked him through the menu and brought him his meal. When he was half way through his drink, someone offered to get him a refill, and before he could bus his own table, another friendly person took his tray. When he left, they thanked him.
The experience, he says, was better than he's received at fine dining restaurants, or even his own restaurants. And they didn't even know downtown had made him famous.