I remember starting my first job after graduating college—or, as my mother put it, "It's like you're a real writer!" One of the page designers had an eyebrow piercing she either had to take out or cover with a Band-Aid. Another had a tattoo creeping up the back of her neck and she, too, had to keep from showing it at work. I didn't give it much thought at the time, but after reading this month's main cover story in which Nancy Weingartner sits down with the owners of Pizza Lucé—whose workers have some of the best body art I've ever seen—I found myself wondering how restaurants would ever find enough employees if they prohibited them from showing that green apple on their shoulder (see this month's Industry Ink on page 8). I don't think they would.
Pizza Lucé CEO JJ Haywood once described her employees to me as "fiercely individualistic." "They don't want to be told who to be," she continued, "and that's actually a great asset. We've made it part of our brand." Nancy has much more from JJ and co-owner Laura Hansen, including how they handle communicating with their millennial-filled staff and what it means to not just embrace diversity but truly make engagement part of the company culture—all without that dreaded corporate feel.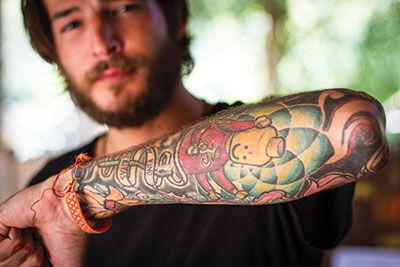 Everyone in my family has at least one tattoo (all I'll say is fellow fans of the Iowa Hawkeyes would be impressed), and I think ink is on its way to mainstream status, if it's not already there. I did, however, get a little laugh when, while doing some research for this month's casino dining feature and efforts to bring in younger visitors, I learned Foxwoods Resort Casino in Connecticut actually added a tattoo parlor last year. What won't businesses do to lure that elusive 20-something customer? I don't know if the answer lies in body art but hey, at least they're trying something.
Locally, casinos such as Treasure Island and Grand Casino are taking steps to offer what I think people actually want: better food. No more troughs of congealed mac and cheese; instead I think I'll have the petite filet and sautéed scallops, or perhaps bison mushroom ravioli, both of which are on the menu at Treasure Island's Tado Steakhouse. I didn't get a chance to eat there when I visited the casino last month to talk with Hospitality Director Mark Dunn, but you can bet I'll come back.
Now I'd like to make a wager of my own: Register for FSN's upcoming Restaurant Business Summit on October 11 at Surly Brewing and you won't regret it. OK, perhaps that's not technically a wager but you get the point. Kim Bartmann, Ann Kim and Jorge Guzman are just a few of the restaurant owners and chefs you'll hear from during the panel discussions. We'll be talking about the creative strategies chefs and restaurant owners are using to attract and keep top talent, plus learn from experienced operators as they share keys to developing successful, unique brands with staying power. 
And I want to give an early shout-out to our industry partners: Premier Sponsors General Parts Group, KLB Insurance, Reinhart Foodservice and Upper Lakes Foods; and vendors CenterPoint, Comcast Business, Diversified Construction, Dynamic Products Midwest, Hockenbergs, Minnesota Restaurant Association, Trimark Strategic, The Yes Group. You'll be able to connect with reps from each of these companies during the summit, plus get a timely legislative update from the MRA's Dan McElroy, who'll hopefully be recovered from putting on the Minnesota Hospitality Conference and Expo.
Make plans to attend this worthwhile industry event Thursday, September 22, at the St. Paul RIverCentre. I'm excited to hear Lori Frazier, Nova Restaurant's director of training operations, talk about the importance of ongoing training in building a dynamic team, plus get the scoop on menu and tech trends. Former University of Minnesota head football coach Jerry Kill is this year's keynote speaker—another can't miss. And of course you'll want to stop by the FSN booth on the show floor. 
Find complete details in the 2016 Show Guide inserted with this issue.