During the last devastating downtrend in the economy—2009-2010—people were careful with their discretionary spend, said Richard Dobransky, who heads up Morrissey Hospitality in downtown St. Paul, "but it wasn't a direct hit to hospitality. This is a direct hit."
In his 30-year international hospitality career, Dobransky said he's never seen anything like the current environment for running a business. During other crisis, "workers could get together to commiserate around your bar. Now that's gone. We used to be that place to do it," he said, referring to the crown jewel in the Morrissey holdings, the St. Paul Grill.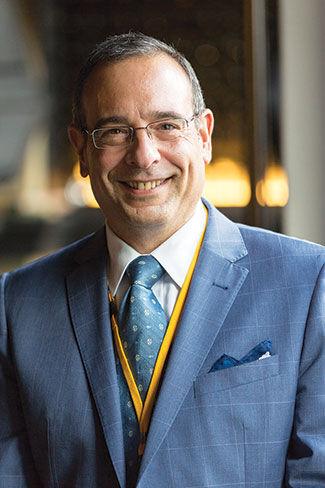 While the St. Paul Hotel has stayed open, the food and beverage outlets inside the hotel—the M Street Café, lobby bar and the Grill—have all been closed. Across the street, another landmark in downtown St. Paul, Pazzaluna also closed, however, it closed permanently, Dobransky said.
"Dismal would be a good word for it," he says about guest visits to the hotel. Luxury stays in hotels are running about 12 to 18 percent countrywide, he said, "and that's where we sit." Even though they are just a block away from the RiverCentre, the event center which they also catered, most of their guests are leisure travelers, although they did have one large corporate event in late September. A bright note is that room service has been doing well.
Down the street, Meritage, another venerable restaurant, remains closed. Oysterfest, its popular annual event that in years past blocked off the street and had multiple shucking stations for a noisy, boisterous crowd was reframed as a virtual event, where oyster lovers picked up their oyster kits to take home and shuck and celebrate. Although they sold around 3,500 oysters, it's nowhere near the number for past events, which also included robust alcohol sales.
Owners Russell and Desta Klein said they are taking the conservative approach, furloughing employees and employing only a skeleton crew to maintain the space, and build a private dining room, something that had been on their bucket list and they now had the time to implement. Because the extra space doesn't have the 30-foot high ceilings as the restaurant, they added an ionizing air filter—another expense that wasn't expected in other years.
In a letter sent out to their mailing list, the Kleins said they've decided to reopen for a limited holiday run with limited seating—30 percent. Reservations went live the end of October.
Like Minneapolis, St. Paul downtown restaurants haven't been privy to attention from the city to help with the lack of businesses, thus people, downtown.
But at least they're not experiencing the crime like Minneapolis, Russell Klein said.
Creativity and the ability to swerve when a roadblock inserts itself in your pathway is the hallmark of hospitality.
To help with the cash flow and to keep the St. Paul Grill name in front of its audience, Dobransky "stole" an idea from a friend in Australia to sell a St. Paul Grill experience, where for $500 a person for six to 10 people, you can take over the restaurant. "We give you the keys to the Grill," he said. Guests can park in the driveway, drink anything they want from the bar, and enjoy a meal prepared especially for you by the executive chef.
It requires just three staff members, a server, a bartender and the chef.
They've had around seven groups take them up on the offer, and Dobransky admits that when he first envisioned it, he worried about the open bar.
"Usually it's a family with a milestone occasion," he said, or a family getting together to celebrate multiple occasions in one.
Like Meritage, the St. Paul Grill will open for the holidays. One thing on tap will be continuing their production of A Christmas Carol in the ballroom, but where there used to be 350 in the audience, now there will be 78.
And while Pazzaluna is closed, it may reemerge, either as a different concept or a different location. Some of the ideas Morrissey is kicking around is to add private dining space that could also serve as overflow for the Grill, and to take some of the space for a coffee bar for the morning, pastries for late afternoon and Gelato for evening. "Or Pazzaluna might come back in the suburbs, Pazzaluna with a parking lot," he said, adding it's all still on the drawing board right now.
Like so many things restaurants are.