Remember the man in the news recently who was arrested for buying an airline ticket to walk his wife to her gate at the Singapore airport? The city is cracking down on nontravelers who buy a ticket just to visit the airport to experience the butterfly dome, cactus garden and four-story slide. Not to mention the exquisite dining and shopping opportunities. 
Liz Grzechowiak, assistant director, concessions & business development for the Metropolitan Airports Commission, might be more simpatico with nontravelers' desire to experience their airport, but not to the tune of Singapore's fine of up to US$14,300 or two years in prison.
In the last few years, the MSP airport has become a beacon for how an airport can showcase both the Twin Cities' culture and its diversity—and even better, it's restaurants. MSP has 141,748 square feet of restaurant space, which produces over $157 million in revenue (or $1,112.17 per square foot), Grzechowiak says.
When a large number of leases ended in 2015, the commission split the revamping of the retail and amenities into two phases. Phase 1 added 50 retail units, including 15 restaurants. Those were mostly local, such as Smack Shack, Black Sheep Pizza, Angel Food Bakery (the only working bakery in an airport) and a food truck corridor, which featured Red Cow, Holy Land and Salty Tart. They are in the process of replacing Salty Tart, which left early. 
Phase 2 is introducing national brands back into the mix by adding 30 restaurants, all in Terminal 1. Of the 30 restaurants to be opened, some will be in four food courts with batch leases and others will be casual-dining concepts such as Buffalo Wild Wings and Chili's. 
Lynn Gordan's French Meadow Bakery, an anchor on the main corridor as it winds down to Gates A, B and C, is being replaced by another of her concepts, People's Organic, which is more in line with the trending vibe for today's travelers. Right now a protective wall is all you can see of the concept, but Grzechowiak says they are planning to include a marketplace with both craft items, as well as grab-and-go food items.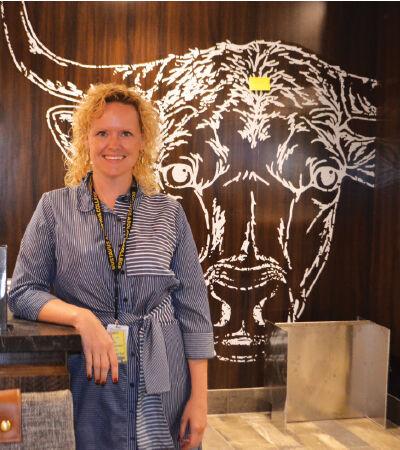 Chef Jack Riebel's, most recently of The Lexington in St. Paul, is opening The Cook and the Ox in the former Ike's spot. Grzechowiak describes it as a "classic, masculine steakhouse experience with a modern flair."  Riebel is working in partnership with Areas Concessions US, which handles the day-to-day; while Riebel handles training and menu development. "Security is definitely  an issue in terms of knives for the kitchen," he says, and deliveries can be challenging.
What the airport management team is looking for in the RFP process (which is always ongoing, by the way) is a balance of national brands versus local brands, as well as a balance of price points. It's viewed through the eyes of both the local traveler and travelers just spending a couple of hours here on their way to someplace else. An interesting note is that the award-winning management team was formed from individuals with no airport experience whatsoever, so that they could see the project with experienced, but fresh eyes. 
While the commission itself ultimately makes the decision, Grzechowiak says she's been fortunate to visit more than 20 airports for benchmarking. She's not just looking at what each restaurant offers, but rather, which concepts work and which don't. And most important which ones drive revenue. 
But money's not always the be-all end-all. For instance, in the corridor across from the first tram stop, the Starbucks was replaced with the lesser known, Joe and the Juice, a trendy, healthy juice bar. "Joe may not get the sales Starbucks did, but it addresses a trend" popular with millennials, she points out. And if the hip music, which is a little louder than other spots, is "not your vibe, there's other nearby options," she says, diplomatically. 
Two of the airports she drew inspiration from were San Francisco (for its design and aesthetics, but government restrictions made it hard for restaurants to make money), and Seattle, which has "a stunning open atrium bathed in light." The new floor-to-ceiling windows in the center food hall imitates that capture of natural light. Internationally (she paired business travel with benchmarking, she stressed), Helsinki and Copenhagen were impressive. San Diego International Airport, however, provided a lesson in ensuring that what passengers see when they peek into a food hall is what they get. "At their (San Diego) food court, you only saw the champagne and chandelier, you couldn't see the fast food," she says, which means passengers on a budget didn't turn the corner to find a food experience. 
Another trick the staff at MSP learned to do well is to disrupt passengers to stop them in their tracks to notice the retail and restaurants. They accomplished this by extending the lease lines into the concourse or gateholds so that the sightlines aren't uniform. You'll see a great example of that in the giant lobster on Smack Shakes' façade and the primary color food trucks that are impossible not to gawk at.
Mix and matched
Some subtle changes to the airport landscape are competitors Starbucks and Caribou switching locations in the main concourse. A sleek, elongated Starbucks is center court and the displaced Caribou took one of Starbucks' prime locations next to The Cook and the Ox. 
Leeann Chin, a popular fast-casual Chinese restaurant in the Twin Cities, has a hybrid in the airport, which has a full-bar and serves sushi and breakfast. Because early morning traffic is heavy at airports as travelers try to get out first thing, all concepts need to have a breakfast program. 
Chili's, which closed its space at the entryway to the G Concourse to make room for the American Crafts Brewers Guild's Stone Arch, a concept that highlights local breweries and sports 27 taps with just MN brewers, has reopened mid-main concourse. Grzechowiak estimates that it will do around $5 million to $ 6 million out of its small footprint.
Behind an elegant new living room location with multi-use functions will be that new light-filled food hall scheduled to open around the end of September-early October. Concepts include Auntie Anne's Pretzels, Moe's Southwest Grill, Firehouse Subs, Shake Shack and PinKU.
Technology upgrades include touchscreen ordering (even at McDonald's), preordered takeout with Grab and a food-delivery app,  AtYourGate,  that brings food to the traveler's gate. 
A secure workforce
One of the biggest challenges for restaurants at the airport—besides the costs—is that food and supplies and employees all have to go through the screening process every shift. All employees have to have background checks, which if your attrition rate is high, so are your employee costs. 
Build-out costs are also high, because the materials have to be able to withstand the wear and tear of hundreds of people sitting and eating at your tables every day. 
When asked if he was at all nervous about opening his first unit in an airport, John Sugimura of PinKU Japanese Street Food, replied, "I'm 100 percent confident." It's been three years since his RFP was accepted and it's been a "thoughtful process." 
"I created the brand, I know the brand," he says. "There's magic here." It also helps that he was able to partner with HMS Host, an experienced airport operator. 
One of his criteria was that his partner has the same social justice bent that he does. And it sealed the deal when HMS Host wanted his concept to reflect what he's built in his restaurant in Northeast Minneapolis. "I hired the general manager that reflects my beliefs, the workforce that reflects my beliefs," he says. 
A quarter of his workforce have special needs, he says. While the stress of parking and going through a long security line every day may get to some employees, he says people with autism are soothed by routine. "It takes 22 minutes from parking to get to the space," he says. "I timed it." These employees, he explains, like the consistency of parking in the same spots, answering the same questions every time they go through security.
One of the sections on the RFP is an employee plan, and Sugimura has a good one. Employees' parking is paid, they get extra breaks during their shift to compensate for the stress of working at an airport and $10.50 a shift for meals. "If they work a double shift they get twice that," he says. 
He also feels good about bringing Japanese food to the airport. "Some (workers) have to bring their own food because culturally nothing else will work," he says. 
He saves on delivery costs because what food he brings in every morning, all goes out the door. "I shop daily," he says. "I'm the only licensed restaurant (in Minnesota) with no freezer or walk-in refrigerator."
As the center of the food hall, PinKU is also big on aesthetics, including a wrap of 16 kimono patterns and cherry blossoms. 
"My whole plan has been to do more airports," he says. And with his first time out the gate, he has a 10-year lease with an option to renew.
Instagramable restrooms 
While Grzechowiak is very much into aesthetics, MSP has someone whose full-time job is devoted to art, Ben Owen, director, Arts@MSP, Airport Foundation MSP. There is art on walls, in stores, in expected and unexpected places.
One unexpected locale garnered some complimentary media attention when Oprah's best friend and TV newscaster Gayle King tweeted about the outstanding restrooms at the airport. Her tweet received 13,830 likes and a lot of media attention. While King was drawn to the spacious facilities and thoughtful amenities, like a wide door that opens out and room for your roller bag inside the stall, local artists are drawn to the contracts for original art for the entryways. 
Currently there are 25 restrooms with original mosaic floor-to-ceiling art, and 130 restrooms in the airport. 
The theme for the airport's local art is nature and a calming presence in a hurried world. 
In addition, there's always something beautiful to look at, from an employee-driven art show to performing artists, such as the ballet dancers and boxers that transformed the main terminal into a stage. "We're working our way up to theater," he says. And if that's the case, I may have to buy a refundable ticket to nowhere, just so I can be in the audience, and have a good dinner afterwards.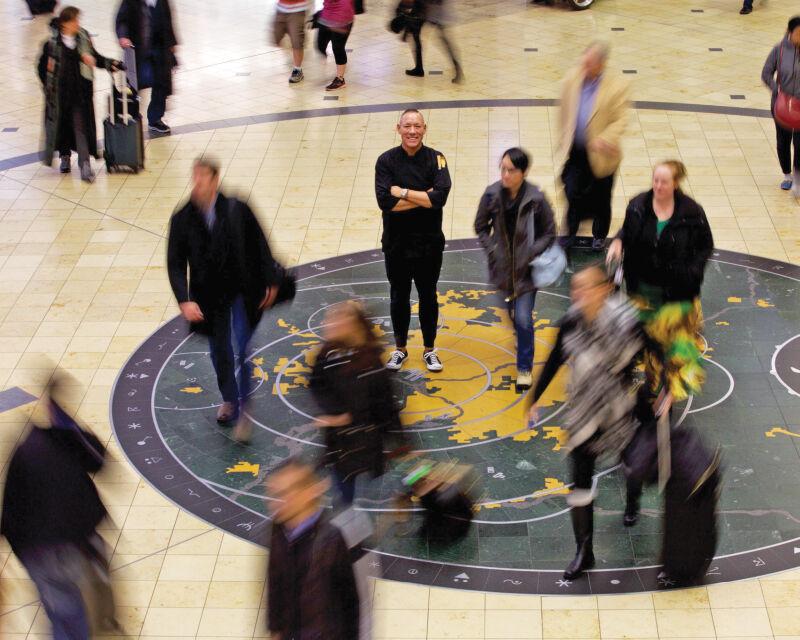 John Sugimura of PinKU Japanese Street Food, is 100 percent positive about his new location in the food hall at MSP.