If you want to know what it takes to be in the running for a James Beard award, it's a team. 
Diane Moua, who is once again up for the Beard's Outstanding Pastry Chef, along with 19 other hopefuls, mentioned her success in terms of the people she works with—as did her boss, Gavin Kaysen, who has been tapped for Outstanding Chef, while his third restaurant, Demi, is up for Best New Restaurant. 
The list was narrowed down on March 25 for the final nominees (alas, after our deadline), and the winners won't be announced until later in the summer, after the foundation moved the awards ceremony from May in deference to the COVID-19 pandemic. 
"I can tell you the obvious," Kaysen said about Moua, who works with him at all three of his restaurants, "which is she is a very talented pastry chef, her work speaks for itself, but often what is misrepresented in our business is that only one person does all of the work, meaning I may be the chef of the restaurant, but there are chefs who are here day-to-day making sure the operations are cooking delicious food."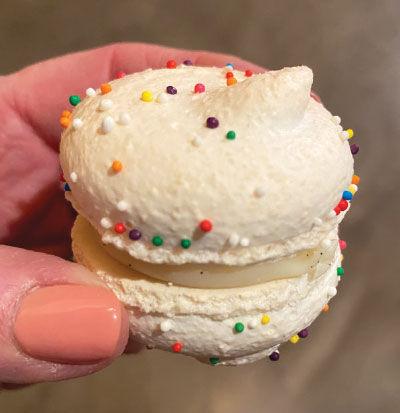 For her part, Moua said she likes to work in tandem with her team. "All our palates are different," she says, "I don't want staff to be bored." And as any smart chef knows, some day you will need a replacement and better to have someone you've trained waiting in the wings. 
"I've changed a lot," Moua said from the days she worked in the kitchen with Chef Tim McKee at the former La Belle Vie. In those days she was known as Diane Yang, but when she got divorced, she changed her name back to her maiden name. She was the only female in a close-knit team of culinary standouts, including McKee; Mike DeCamp, now head of culinary at Jester Concepts; and Jim Christensen, owner of the critically acclaimed HeyDay before it closed in 2018. 
Her first job out of culinary school was with the famed Aquavit, a white tablecloth restaurant from New York City, that had a short run here, but was still influential to the Twin Cities' culinary landscape. "I was an hour late my first day because I had to find parking," she said, adding, she was amazed they didn't fire her on the spot. 
"I'm fortunate to work with great people," she said. 
Moua went to culinary school with the idea that she'd be decorating fancy cakes, but she found she didn't like the fussiness of cake decorating. "I like simple," she said. 
She went into fine dining, which she says was a bit like the movie, Pretty Woman, where the unsophisticated Julia Roberts encounters multiple sets of silverware that she has no idea how to use. But like Roberts, Moua is a quick study. 
"I've learned so much from Gavin," she said. "He's a clean freak. I've never worked in a cleaner kitchen. I used to have to spray the bottom of my shoes, I never do now."
Kaysen agrees with Moua's assessment that she's has changed over the past five years. "Her pastries, her coachability, her desire to seek balance in a life, her mentality and attitude, they have all changed for the better," he said. "This has come from many areas in her life, but at the end of the day, it has made her a better chef, person and friend. I consider Diane one of my best friends...but what is more important to me is who is the person behind the desserts and what can they bring to the team that will help the next generation become better."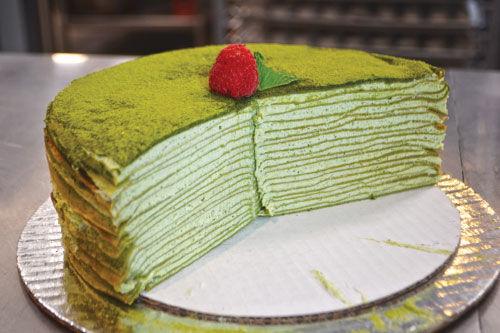 The impetus for her newfound contentment lies in the major changes she's made, including being the first in her family to be divorced. Now a single-mother with two daughters, she's feeling more in control of her life.
Sitting in the stately dining room at Bellecour, Moua took some time to talk  between a photo shoot of the upcoming desserts—including a green matcha version of her famous crepe cake for St. Patrick's Day —and getting ready for the dinner service.  And she was surprisingly open about her journey to this newfound place where she "loves life."
"I got married young and it was a traditional marriage," she said. "I had two lives." After working a 15 to 16 hour shift to open Bellecour, she came home to cook and clean and take care of her two biological children, plus five foster children and a niece and nephew. "My job was to do everything," she said. "That was 10 pairs of clothes (to wash) every day."
When she sought a divorce, both sides of the family blamed her.  It wasn't easy, but through the transition, she's been able to restructure her work, and found she can have "an executive position and still have a life." Their workload is scheduled so employees can work four 10-hour shifts a week, with three days off. 
While the schedule benefits everyone, it's especially helpful to women, she said. "I see women come into the kitchen, have a family and quit." She's been pastry cheffing since 2001, and is just now getting weekends off.
Even when asked a second time what the secret to being named a top pastry chef, she doesn't have a definitive answer. But her former co-chef, Mike DeCamp fills in for her: "I would say that what makes her one of the great pastry chefs, in my opinion, is her ability to look at new ideas and techniques with an idea of how to shape the thought into her style," he said. "She has always been driven to make the best food that she can and I have always admired her for that drive. Her hard work paired with a creative mind has driven her to be one of the best pastry chefs that we have in the country these days."
Her advice for women in the kitchen is to always aim high. "You can learn something from everyone," she said, adding, "Sometimes you'll learn what not to do."
And at the end of summer, we'll find out if the folks voting for the James Beard Awards concur. 
"It's great to be on the list, I'm very honored," she said, as expected. Then added: "How will I feel if I do win? Do I have to work less?...Life goes on."