Rose McGee has a passion for pies and social justice. And she also has a damn good family recipe that makes her sweet potato pie hard to duplicate commercially—until now.
For years McGee's sweet potato pies have been a welcome bit of hospitality amidst a tragedy, such as the rash of killings by police officers of young black men, starting in 2014 with the shooting of Michael Brown. McGee learned the meaning of comfort food when she was growing up and accompanied her grandmother on her visits to elderly neighbors, always with a freshly baked sweet potato pie in hand.
In 2015, McGee organized Sweet Potato Comfort Pies with support from the Golden Valley Community Foundation, and one of its first projects was to make the same number of pies as Civil Rights Leader Martin Luther King's age would have been that year, had he not been assassinated. The 86 sweet potato pies were part of an event where community members gathered to foster a dialogue around race. The event was repeated each year after that.
Sweet potato pies, long considered the sacred dessert of Black culture, couldn't have found a better advocate than McGee, who is both passionate and down to business. And while she has a day job, pies have moved from a calling to a mission with a business plan.
A master marketer, McGee has attracted ample opportunities to get her pies and cause out in front of people via the media, and after a story runs, or a segment airs on TV, McGee is inundated with requests for her pies with no way to fill any orders.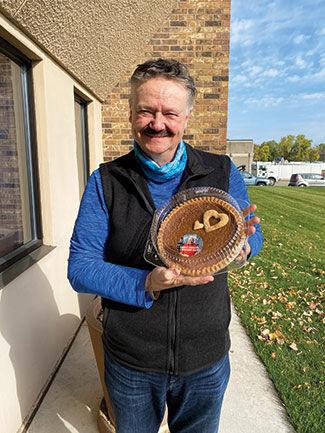 Ironically, the answer presented itself at the "Homemade Pie Capital of Minnesota," where as a pie judge in the annual Braham contest, she met a baker from Rush City Bakery, who relayed her story on to his boss, John Bourgeois, the owner. The two talked about what it would take to make McGee's pies commercially, but the conversation didn't get serious until after George Floyd's death in the Twin Cities, while in police custody.
Over a cup of coffee, the two came up with the plan to sell the pies in the bakery—which has become a destination stop for travelers heading up north—and to ship frozen pies.
"The pies are slightly different, but you'd have to have had a lot of Rose's pies to tell," Bourgeois says. The challenge is that commercial bakers can't afford to make one or two pies at a time from scratch.
"We ended up finding a smaller producer of organic sweet potatoes and its very orange," he says, which is a trademark of McGee's pies. "It's got to taste like her pies and look like her pies, but it will never be Rose's personal pie."
After tweaking the recipe to be able to scale it up, McGee did a taste test. "When she tasted our pie, she actually did a little dance, because she thought it tasted pretty close to her pie," he says, laughing. Although it's a little sweeter.
Shipping was the next challenge.
"Traditionally you never ship a custard pie," he says, because it can't go through the normal mailing process and get to the customer intact. "So we decided, we're going to have to ship it frozen."
The day the pie is to be shipped, it's hard frozen, placed in a clamshell and placed in a priority box for one- to two-day delivery. "I shipped one to my daughter in Atlanta, and it arrived beautifully—but that doubles the cost."
But let us just say, that it's worth it. The pie we ordered—Bourgeois graciously delivered it to us—received rave reviews, and you know how jaded a bunch of journalists can be.
McGee's next project is a children's book that will be published in spring 2021 by the Minnesota Historical Society, titled "Can't Nobody Make a Sweet Potato Pie Like Our Mama."
And while that may be true, the one at Rush City Bakery is about as comforting as any sugar rush we've ever experienced.