Walking up to Jameson's Irish Bar (formerly Cherokee Tavern) on Smith Avenue South in West St. Paul, I noticed a Little Free Library attached to the nonchalant brick exterior. As I passed by a few empty patio tables surrounded by pink, yellow and orange flowers, the Minnesota State Capitol building made an appearance in the distance.
I ventured into the dark bar and was greeted by Brian Rubenzer, Jameson's owner and executive chef. A customer called out his name, presenting him with Mount Rushmore salt and pepper shakers to add to his collection, years in the making.
"My wife (Mollie) wouldn't let me display them in the house," Rubenzer said, "So when she was doing the decorations for (Jameson's) and starting putting the salt and pepper shakers up, it almost made me cry."
Rubenzer, hailing from White Bear Lake, bought The Cherokee Tavern Sirloin Room in July 2017. In late July this year, Rubenzer closed temporarily to remodel the space and change the name. Named after the Native American tribe, the Cherokee Tavern had been operating under that moniker since 1933. One day on the way to his son's baseball game, "it hit him like a ton of bricks" that Rubenzer needed to change the name.
"I have no Native blood and our food has no Cherokee connection, which was a great reason to make the name change," Rubenzer said.
His son's name is James—thus, Jameson's—and his wife is Irish. This falls in line with the advice Rubenzer learned from Kaj Sorensen, a Danish master chef who taught him to "keep it simple and don't try to be a cliché."
This mantra also appears in his cooking. I stood off to the side while he prepared an Irish egg roll, watching as he stuffed the crust with mashed potatoes, peas, green onions and cheddar cheese. Normally the $10 appetizer includes ham, but Rubenzer made it to-order for my dietary restrictions.
Rubenzer learned how to make the dish from Sorensen, who promoted Rubenzer to executive chef of St. Paul's Pool and Yacht Club at the ripe age of 22.
"You've gotta give credit where credit is due. Basically, a chef is just a good thief," Rubenzer said. "You can give a recipe, but there are certain tricks of the trade that make it go above and beyond. Recipes don't work out all the time. You have to learn to adjust here and there."
The Irish egg roll, deep fried to flaky perfection, tasted like Thanksgiving at my grandparents'. The slightly crunchy outside gave way to a soft, simple inside, which came to life when dunked in their seasoned sour cream dipping sauce.
Rubenzer, who graduated from St. Paul College's culinary school in 2001, got his start in foodservice at 14 washing dishes for Spinnakers restaurant in White Bear Lake. He's tried to follow in the footsteps of his mentor, Chef John Schultz of Lake Elmo Inn, so he went out on his own at 28 and bought a catering company. Now up and running for 16 years, Rubenzer named it Brie Cater, after his daughter.
"The first thing (Schultz) bought after he bought Lake Elmo Inn was a Mercedes, to reward himself. The first thing I bought after buying Jameson's was a Mustang," Rubenzer said. "It's always good to have a mentor to look up to and try to follow in their footsteps, to follow the road they took."
While remodeling Jameson's, Rubenzer created a cozy bar area, then put in barn doors to separate a larger side room and back room to be used for an event venue called the Bella Room. This is the first time Rubenzer, who typically caters about 80 weddings per year, will be able to cater out of his own venue. The versatile space can fit about 190 people, but Rubenzer is hosting 50 people now during COVID-19.
"It all makes sense now," Rubenzer said. "I started cooking out of a crappy kitchen, and I have nice bathrooms now…It's a landmark to have my first tasting in my own banquet room."
Rubenzer hopes his Irish concept will prove successful for the area.
"I consider myself a trendsetter in catering," Rubenzer said, evidenced by multiple chefs who he claims copied his dishes over the years, such as edible orchids. "But I haven't figured it out in the restaurant setting yet. To be in the restaurant business, you have to have a good concept behind it. I'm still learning that."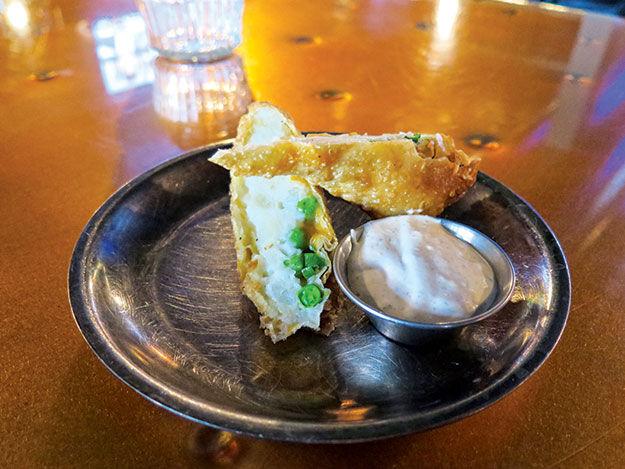 Irish Eggroll 
4 inch Eggroll Wrap
Tablespoon small dice ham
Tablespoon peas
2 Tablespoons Shredded cheese
Prepared mashed potato about 2-3 ounces
In center of eggroll put first the potato, then ham, peas and cheese. Roll it up and seal the corners with egg wash. This takes a little practice. Refrigerate for about an hour so they can hold together better. Deep fry in a fryer or pot with oil, make sure to have enough oil to at least fry one side at a time
Seasoned sour cream dipping sauce
1/2 cup mayo
1/2 cup sour cream
1/4 tsp seasoned salt
1TB lemon juice
1/4 tsp garlic powder
1/4 tsp onion powder
4 dashes of Worcestershire sauce
Couple sprinkles of paprika
TB parsley
Mix together