If Urban Organics' vision for the former Schmidt Brewery warehouse becomes reality, leafy greens could sprout and fish could swim where beer was once stored. The urban aquaponics farm, which opened for business at another brewery building on the former Hamm's site last year, is looking to expand to a 67,000-square-foot warehouse at 543 James Ave. in St. Paul.
Urban Organics officials are cautiously optimistic that their plans for a second St. Paul facility could take shape in the West End. The company has a purchase agreement for but hasn't closed on the property. The warehouse is in the last of the buildings still held by Minnetonka-based BHGDN LLC, the owners of the shuttered Minnesota Brewing Company and Gopher State Ethanol plant.
"We're really excited about the possibilities of opening at second facility in the West End," said Dave Haider, one of four Urban Organics co-founders, along with his wife, Kristen Koontz Haider, and Chris Ames and Fred Haberman.
Urban Organics is working with Ward 2 Council Member Dave Thune to make the second facility a reality. Thune is helping the company with its due diligence on the property, including the exploration of what, if any, zoning changes would be needed. The property is zoned for traditional neighborhoods mixed use and would need to meet that zoning. One possibility being explored is adding a small retail store.
It's not known if the new location would receive any financial assistance from the City of St. Paul, which in 2013 awarded a $150,000 grant and a $150,000 loan to Urban Organics.
Thune said the idea of another local food production facility in St. Paul is exciting: "I think this would be a great addition to the area." Having visited the site, Thune said it would be a good fit for the West End warehouse. 
The West 7th Street/Fort Road Federation had a mixed reaction to the idea during its monthly meeting February 9. Some district council members liked the idea and see the Urban Organics proposal as a source of local jobs and fresh food. Others were more skeptical about odors.
Thune has offered to take Federation members and neighbors to visit the existing Urban Organics facility. "I was expecting there to be odors and there really isn't anything you can detect outside," he said.
One attraction Haider noted is that like the former Hamm's Brewery site, Schmidt also has a deep artesian well that could be drawn on for Urban Organics' operations. 
"We know that a brewery can be a great source of water," said Haider, adding his great-grandfather worked at the Hamm's Brewery for nearly 40 years.
"We also really like what's going on in the neighborhood, with the redevelopment of the brewery into housing and commercial space," Haider continued. "We need more space and this seems like an ideal fit.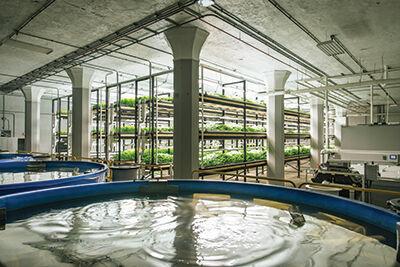 As is done at its first facility, the new Urban Organics location would use a system of aquaponics. A combination of hydroponics (growing plants indoors, without soil, using drip irrigation) and aquaculture (farm-raised fish), aquaponics aims to be a closed-loop sustainable system, where waste produced by the fish is used to fertilize the plants and the plants in turn filter the water that is returned to the fish tanks to start the process all over again. The only water loss is through evaporation.
Urban Organics' East Side facility produces leafy greens, herbs and vegetables, with tilapia swimming about and providing the fertilizer needed for the plants, said Haider. "We're doing really well and we need more space."
The company supplies restaurants and a few select supermarkets, including food co-ops and some Kowalski's stores. The goal is to get produce to vendors the day it is picked. The produce is certified 100 percent USDA organic.
Urban Organics uses 2 percent of the water of required in conventional farming, thanks to a water system developed by Twin Cities-based Pentair. Plants are grown in stacked beds on six floors of the Hamm's facility. 
If Urban Organics can expand to the former Schmidt Brewery, it would end years of speculation about the warehouse's future. Many ideas have been proposed for its reuse, including at various times a senior housing complex and a brewpub/restaurant/museum. Most recently Premier Storage wanted to build a climate-controlled storage facility. The St. Paul City Council rejected that proposal in November.