For the past 10 years, Abdirahman Kahin has eaten at the Afro Deli & Grill six days a week. "It's a diverse menu, I never get tired of it," the 45-year-old owner of the chain says.
The food is made from scratch—"there are no freezers in Africa," he says—and has its roots in both African and Mediterranean cultures. Meals are healthy and prepared Halal. Basically, Kahin has created a place where he'd like to eat, knowing that the Somali neighborhood wants that taste of home as well.
"I always wanted a space where Africans can gather and have their own community," he says, but the space is open to anyone wanting to soak in both the cuisine, the bright colors and music of Africa. When he first opened, his guests outside the neighborhood were adventurous people who had traveled to Africa and were looking for the same culinary experience. He's been able to build a following where around 70 percent of diners are regulars, mostly a lunch crowd.
Kahin came to the U.S. as a refugee seeking asylum from Somalia. These were the days before social media, "but we were able to find large pockets of community, our food, religion culture," he says. "You'd find a cousin or an uncle so you don't feel nostalgic of back home."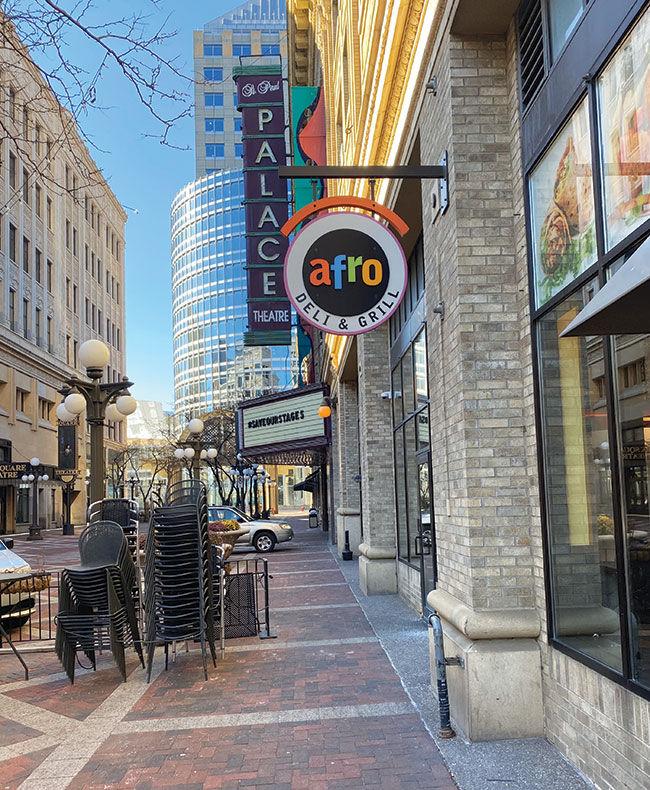 When he came up with the idea to open a restaurant, he knew nothing about the business—or about business, for that matter. But he had tenacity. "I went to restaurants I could relate to, like Indian," he says. "I did research by talking to people."
He also took the more formal step of attending St. Thomas University's mini-MBA program. He did three semesters, he says, to ensure that he understood the numbers. "Without St. Thomas I wouldn't be here," he says.
Before the pandemic he owned four restaurants, but because of the lack of traffic in both St. Paul's and Minneapolis' downtown, he's closed his skyway locations at least temporarily. "We don't see people coming back," he laments, at least soon enough to make the locations viable.
In addition, his second income stream, supplying the Hudson News takeout outlets at the Minneapolis-St. Paul International Airport, dried up as well.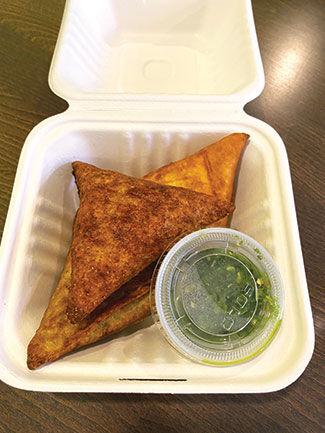 Afro was already donating a percentage of its proceeds to local organizations that promote a vibrant and healthy local community, so his next pivot was right in line with his mission. He dedicated the space next door to his Afro Deli in downtown St. Paul on the mall (next door to the Palace Theater and across the plaza from the Park Square Theater) to an assembly line for both Meals on Wheels and providing meals for residents of Ramsey County affected by COVID-19. He gave free meals to election poll workers and makes inexpensive meals for health care workers.
"Kahin is one of the world's nicest people," says Jim Smart, who did the design for the restaurant and has become a friend. "And he's smart of a whip."
He's done a lot for others, Smart says, and he's "incredibility respected by his community."
To illustrate what kind of charisma Kahin has, Smart tells the story about inviting Kahin to a fundraiser for Al Franken, when he was running for reelection to the U.S. Senate. The two connected, and the next thing Smart knew Franken had invited Kahin to fly out to Washington, D.C. and attend the State of the Union address with him.
Smart introduced him to attorney Dennis Monroe, who also commented on what an impressive businessman Kahin is. They're not alone in their praise; Kahin has received awards from the city of St. Paul City Council, the St. Paul Chamber and the Kind-of-Big-Deal Readers' Choice award from Growler magazine.
His chef, Moussa, handles the menus and supervising both the kitchen in the retail store and in the assembly kitchen where the meals are packaged and labeled for delivery, paying special attention to the individual dietary needs of each recipient.
His turnover is very low—around a 90 percent retention rate, he says, and the new business lines has allowed him to retain his staff and hire 20 more people as drivers, cooks and administration. Some of his workers have been with him 10 years and he says he's gotten to know them and appreciate them. He hires wives and husbands, fathers and sons, which he says builds loyalty. "If a worker can bring his son to work, it means he'll care more for the restaurants," he surmises.
The pandemic has been a learning experience, he says. "I have learned so many things to expand my humanitarianism. I always liked to help people, this gave me the opportunity (to do more)." When things return to normal, he'll grow his restaurant chain, but he'll also continue the mission of providing healthy meals to people.